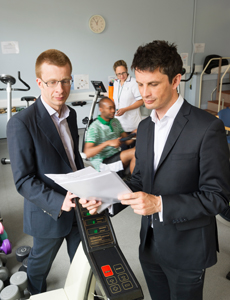 Experts at Royal Brompton Hospital are helping some of Great Britain's elite athletes achieve their potential in time for the 2020 Summer Olympics in Tokyo.
In the first collaboration of its kind, the hospital's experts are joining forces with the English Institute of Sport (EIS), the Institute of Sport Exercise & Health (ISEH), and Imperial College London in a project to boost respiratory health in elite athletes.
The project aims to reduce the impact of breathing problems on the athletes' availability for training and competition as, despite having high levels of fitness, a number who compete at the highest level are still susceptible to respiratory illnesses. According to EIS data, respiratory illness is the largest health problem among UK athletes.
Problems experienced both in training and competition include respiratory infection (with symptoms such as headache, persistent coughs, sore throats and nasal discharge) and asthma, which can have a significant impact on both training and competition performance.
Dr James Hull, consultant respiratory physician at Royal Brompton Hospital and an expert in athlete respiratory health, said: "Respiratory illness is the most prevalent health issue in athletes. This project offers a great opportunity for us to really understand this area properly, to help athletes remain fully available for training and competition."
The project will evaluate and support improved care in the prevention, detection and diagnosis of respiratory illness, in over a hundred athletes identified as being particularly susceptible, from a cross-section of Olympic and Paralympic sports.
These athletes will undergo a battery of tests, including lung function, immune and allergy status, respiratory tract bacterial profile, medication use and illness history at EIS sites across England.
In the two-year period to 20 July 2017, there were 630 respiratory illnesses recorded in 402 athletes, with an average of nine days of restricted training per occurrence, totalling around 5,800 days or nearly 16 years of training days impacted.
Over 30 per cent of the affected athletes had repeated occurrences in the two-year period, with the diagnosis of upper respiratory tract infection - sinusitis, laryngitis and the common cold - accounting for 85 per cent of them followed by asthma with 11 per cent. It is also likely that under-reporting and self-managing of respiratory illness means that the rate and impact is likely to be higher still.
Dr Rod Jaques, director of medical services at the EIS, said: "A key part of our work with sports is to improve the health and wellbeing of athletes.
"It is therefore the aim to optimise respiratory health management to not only cut down on lost training time due to illness, but to improve the overall health and well-being of athletes.
"The cross-collaboration and expertise from different partners is key to this project's success. Royal Brompton Hospital is one of the top institutions for understanding upper and lower respiratory tract problems in the UK, the data we collect will be vital in progressing our understanding of athlete respiratory illness and health."
Dr Mike Loosemore, lead consultant at the Institute of Sport, said: "We know if we can reduce the time lost in training, the likelihood will be better performances in competition. This is absolutely brand new, cutting-edge stuff. This is going to be world-leading, beyond any question. It's a really big advance."
The results are likely to have wider public application with respiratory illness being a major economic and healthcare concern in the UK.