A Covid-19 patient at Royal Brompton Hospital who was on ECMO for more than 60 days, longer than any other patient treated at the hospital during the first wave of the pandemic, has thanked staff for performing 'a miracle' and giving him a second chance at life.
Raj, 42, who lives with his wife Ami and two sons Aarav (5) and Ayaan (2), was treated at the hospital during the first wave of the pandemic and spent four months in hospital.
Raj was initially admitted to Northwick Park Hospital in April 2020 but was transferred to Royal Brompton with respiratory failure due to Covid-19 and put on Extracorporeal Membrane Oxygenation (ECMO) – a form of life support, after conventional ventilation failed to work. 
He had multiple heart and lung problems and went into multi-organ failure with staff worried he wouldn't survive. However, after 62 days on ECMO, and almost four months after he was first admitted, Raj defied all odds and walked out of hospital on 6 August 2020.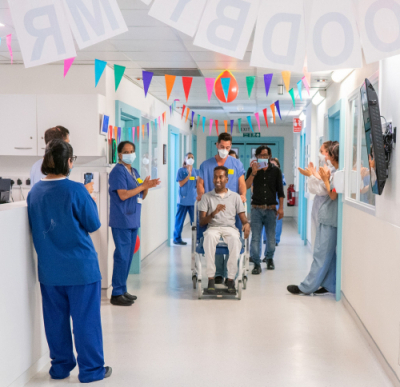 Commenting on his care, Raj said: "The doctors, nurses and staff at Royal Brompton performed miracles. I want to thank every person who stood by me, cared for me 24/7 and gave me a second chance at life. I'm thrilled to be back on my feet and doing well, with my wife and kids, who are my life. All these magical moments are down to you – thank you."
Raj's wife Ami also wanted to thank staff for saving her husband's life: "I honestly don't have the words, it's like they treated Raj, not as patient, but as one of their family. I've never seen anything like the care and support Raj received.  
"It's been six months since Raj left hospital and there isn't a single day we don't think or talk about the staff who saved his life – they are a part of our life now and we will be forever grateful."
Jo Tillman, AICU senior nurse and matron, who along with her team looked after Raj throughout his time in hospital, said: "For so long he looked like a patient that wouldn't survive due to how sick he was. We were always quite cautious and guarded with his progress because he had been in multi-organ failure for so long, but despite everything he did start to slowly improve.
"Eventually, his journey turned around, and he kept improving against all the odds. We got to a point where he could come off ECMO in June and after this he continued to get better. It was amazing, as a team we were so happy to see Raj improve and be discharged back home to his family."
Although memories of his time in hospital are hazy, a moment Raj will never forget is staff lining the corridors to clap and celebrate him going home.
Raj said: "The celebrations started two or three days before my discharge. Staff came to say goodbye and to wish me luck; they came on their breaks, before and after shifts, it made me feel really special.
"Then the night before my discharge, I feared the worst and couldn't sleep. I kept thinking something would come up on the doctor's report and my discharge would be delayed. Staff lifted me up though, they were so excited for me and it gave me the confidence to feel excited too.
"The day came, and I didn't know what Jo (Tillman) and others had planned so when I left my room to clapping and cheering, I was overwhelmed with surprise. There were decorations, my name on a banner, staff lined all the way from my corridor to reception. I felt like a king, on top of the world, it was so special and emotional.
"I came out by reception and requested staff stop the wheelchair so I could walk out of hospital. I was able to walk out to see my lovely kids' faces and my dad. It was a bittersweet moment; I knew my journey at the hospital had come to an end, but I was positive and hopeful for the future – a new journey was beginning at home."
Jo, who was there when Raj left, said: "To see him walk out, I thought 'wow, is this really happening?' It was such a special moment and one that I will always remember. Raj is a very positive person, and his family are amazing. They had strength and faith throughout it all and when he woke up, I thought 'you are the same – positive and strong'."
Since leaving hospital, Raj has been doing rehab at home to regain his strength and energy. Although it's been a long and hard process, Raj is motivated to keep going. He said: "Every pain has been realised but I'm determined to carry on. I will be doing rehab for another six to 12 months, but it's become a part of my life, I can't think without it. Every day, I'm finding new ways to regain my strength and get back to normal."
The best part of being at home though, has been time spent with his family. Raj said: "It's been like I'm in heaven. Every second has been precious with my lovely kids – talking, playing, dancing, singing, getting them ready, preparing their food, helping them with studies – it's honestly been an out of this world experience for me.
"And being back with my wife, who is my eternal world and strength. My second life has made me feel special and worth living even more, and it's all thanks to staff at the hospital. We hope to go on our first family holiday when things get back to normal. But for now, I'm so happy to be able to say: 'I am Raj and I am alive'."