Sarah Pepper recalls the moment that her son Jack was diagnosed with hypertrophic cardiomyopathy, a condition that causes the walls of the heart chamber to thicken and can restrict the flow of blood through the heart. "The doctor started to fill up with tears," she says.
It was an unlikely turn of events for Jack, then aged 12, who had just joined an afterschool running club but found himself falling behind from the rest of the group. "I just put it down to not exercising a lot and just sitting around, because I'd only just started running," he says. Cautious, his coach suggested he make an appointment with his GP, who, after an initial bout of tests which suggested "he was probably fine," referred Jack to Glenfield Hospital, near his home in Leicester, where he was diagnosed.
"There was poor Jack sat there and me not thinking there was anything really wrong with him, and then just being told about this condition," says Sarah. "And it all just went very busy from there with a massive amount of appointments."   
For the next five years, Jack's life would be governed by visits to the hospital. Medical tests continued to assure clinical teams there was little to worry about, a conclusion which did little to allay Sarah's prickling worry that he "could have an event at any time," she says. "I had a terrible feeling that something was about to go wrong, even though they were very reassuring."
But it wasn't until February 2022, when Jack was 18, that a sore throat – "what we thought was tonsillitis," says Jack – set off a chain of events that, by the end of a few short weeks, would land him on the 'super-urgent' heart transplant waiting list, while at Harefield Hospital.
"My throat was swelling, and it was really painful and sore," says Jack, remembering the Wednesday he started feeling poorly. At the time, domestic Covid-19 restrictions were still limiting face-to-face GP appointments, but he was prescribed antibiotics.
Two days later, Jack's condition worsened. "He was vomiting, and we were starting to think, 'oh, this isn't good,'" says Sarah. "Friday morning I phoned up the GP again and said he's going downhill, and they prescribed him a different set of antibiotics."
But they were of little use. By Saturday morning, Jack had developed purple spots on his elbows – a well-known sign of sepsis – and was rushed to A&E. "The sepsis went straight to my heart," says Jack. "It usually attacks the weakest point in your body, and because my heart was quite weak already, well, it was just game over for my heart, really."
Finding himself at Glenfield Hospital once again – this time under intensive care – and showing further signs of deterioration, Jack was blue-lighted to Harefield Hospital on March 14. There, he was placed on extracorporeal membrane oxygenation (ECMO), a form of life support that takes over the job of the heart and lungs.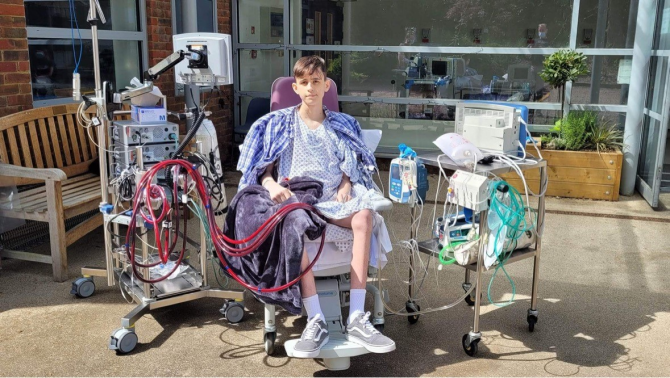 With his heart continuing to fail, Jack was fitted with a left ventricular assist device (LVAD), a mechanical implantation that is attached to a patient's heart, helping to pump blood from the left ventricle to the rest of the body. But still it wasn't enough. A day later, Jack found himself hanging at the cliff-edge of a cardiac arrest and was urgently fitted with a second ventricular assist device – this time an RVAD to help pump blood from the right ventricle to the rest of the body – the function of Jack's heart now being supported entirely by foreign devices. He was also now on the U.K.'s super-urgent heart transplant waiting list. 
It would take several attempts before a suitable donor heart was found. "We had four heart offers which were unsuitable," says Sarah. "The transplant coordinators would come in and say, 'we've done the final checks and I'm ever so sorry.' And they looked so upset for us."
That was until May 18, when, on the fifth attempt, a suitable donor heart was thought to have been found. "It was quite a big thing when they came in and told us," says Sarah. "They said, 'I'll give you 15 minutes to think about it,' because obviously they can't wait around. When he left the room, we all just looked at each other, and everybody looked at me, and I just said, 'well, I think we should go for it.' I had this overwhelming feeling that everything was going to be okay." 
Jack agreed – but, after four previous disappointments, he was careful not to get his hopes up. "I actually fell asleep because I was just like 'oh it won't go through.' And then the transplant coordinator came in while I was sleeping, and they told my parents that it was going to go through. I opened my eyes and I just thought, 'it's not going through, is it?' and they were like, 'no, it's happening.' And I just thought, 'oh my God.'" Just shy of two hours later, Jack was being wheeled to the operating theatre. "The nurses were clapping for me. I knew I was feeling my own heart for the last time in my chest. And then I went in. I just didn't feel nervous, I just felt a sense of relief."
It was an 11-hour operation, on a heart that, as Jack would find out later, looked like a block of stone and was pumping just one litre of blood per minute. After an agonising wait – "we couldn't settle at all or stay in one place for more than five minutes," says Sarah – a phone call from Mr Espeed Khoshbin, consultant cardiac surgeon at Harefield Hospital, on which he described the transplant as one of the most challenging he had ever done, but suggested Jack was doing well, was the news Jack's family had been waiting for. "We were just absolutely elated that it had been completed."
Jack was discharged from Harefield two weeks later, his first steps to recovery remarkably swift. He woke up on the same day his transplant was carried out, defying what would usually take a few days. "I literally ran down the corridor and blow me down he's awake and looking at me from the ward, smiling and waving," says Sarah.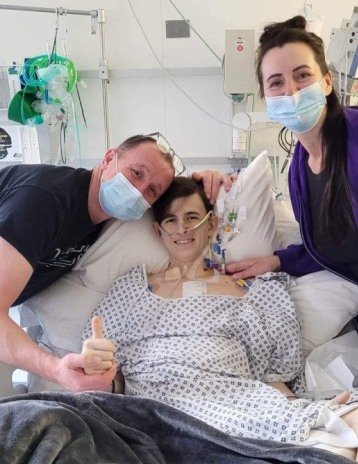 Recovery and rehabilitation followed, a process Jack vehemently pursued largely independently, with single-minded determination. "I just forced myself to do it because I didn't want to be this skinny thing that couldn't do anything,' he says.
Eight months on from receiving a new heart, Jack feels able to pursue activities he found difficult when he had a heart condition. In fact, "I can do more now," he says. "I can run and things like that, whereas before I couldn't."
"It hasn't just fixed him, it's made him better than he was before," adds Sarah.
When asked whether he feels a new heart has given him a new lease of life – a turn of phrase that is often associated with transplants – Jack is quick to agree, attributing this to his donor, and the doctors and nurses that cared for him at Harefield. "I owe my whole life to them," he says. "They saved my life, and they've given me a second chance at living my life."
"This is somebody they don't know," says Sarah. "We watched them day and night for three months and the team are unbelievably professional and dedicated." Trips to Harefield's sunshine therapy area, arranging for Jack and his family to sit together in the conservatory, and on-site accommodation his family could stay in, are just some of the examples Sarah cites as the "little ideas" that made a big difference. "Jack's a complete stranger to them, yet they were so dedicated and lovely. I mean, they'd even bring him tubs of ice-cream."
As he reflects on the last eight months, and particularly on being the recipient of a donor heart, Jack says, "it's always in the back of my mind. It never leaves me, I'm always thinking about it. It's like it's just always there, dormant, what's happened."
He sounds incredibly grateful – and says he is. "I feel normal. I can run. I can do anything. I can go swimming. I just feel back to myself."
"I'm back to working around five days a week," he adds, and is looking forward to completing his Level 2 plumbing diploma this month.
Would it be fair, then, to suggest there is little that can get in the way of what Jack is now able to do? "Definitely," he says, proudly. "I don't feel like I've got any limitations at all."