Harefield Hospital patient Ben Wolfenden recently spoke publicly about his joy at being able to celebrate Father's Day at home with his family, thanks to a life-saving double lung transplant performed at the hospital last year.
Diagnosed at birth with cystic fibrosis (CF), Ben contracted flu in February 2019 and after eight weeks in his local hospital was rushed to Harefield Hospital, where he was put on life support via an Extra Corporeal Membrane Oxygenation (ECMO) machine as his lungs were not functioning well enough to keep him alive.
Ben was put on the urgent transplant list and last May Harefield Hospital's consultant cardiac and transplant surgeon Mr Balakrishnan Mahesh carried out his life-saving operation. A year on, Ben is at home enjoying life with his two young children.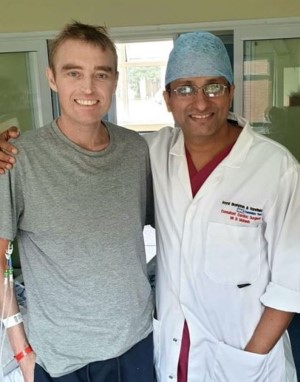 Speaking about the operation, Mr Mahesh told the Sunday Mirror: "Last May I knew Ben was on the super-urgent waiting list for new lungs, so the clock really was ticking. He was basically being kept alive by a life-support machine which is prone to complications and problems, so we were talking just days to find new lungs if Ben wanted a real chance of survival.
"Incredibly I learned within 24 hours of him going onto the list that suitable new lungs had been found – and that means matching his blood group, as well as being within 10 percent of the size of his old ones. And one healthy new lung wouldn't do – with CF the other, unhealthy lung would infect the new healthy one, so we needed two, and very quickly. He was super lucky.
"The moment I knew the new lungs were good we had Ben in theatre prepping him. Donor lungs are put on ice and realistically only survive for 10-12 hours out of the body, about the same time as the operation to put them into a patient, so every minute can count.
"I headed a team of 10 that day – I was the primary surgeon with two assistant surgeons, there were two nurses, two people running the life support machine, and three anaesthetists. Each of us is as important as any other. We took a break after four hours after the first lung had been implanted, and then again four hours later after the second had been put in, then two hours later we'd finished. It's a long procedure, but the buzz from the adrenaline and the knowledge that you're saving someone's life, it gives you all the energy you need.
"I used a minimally invasive approach using two 12-13cm incisions, one on each side, through which I extracted and inserted the lungs – this is much better for the patient than using one 35cm-long incision, but much harder for the surgeon! Ben's own lungs had suffered so many infections they were really stuck inside him, removing them was perhaps the hardest part of this.
"Harefield Hospital is one of the few centres in the world which can do these procedures, performing a transplant of this type on a patient on life-support. Elsewhere the patient wouldn't be put on life-support and wouldn't make it. So, Ben's lucky on many fronts.
"I knew straight away that the surgery had gone well, and informed his beautiful family with the good news. Of course you never know how things will pan-out in the next few years, but the success rate is around 90 percent after a year, and typically 50 percent of patients are alive after seven years. But Ben's young and healthy, so you never know.
"It's been a privilege to operate on Ben, to see him thrive and know he's at home with his family now. I love my job, and to see these results makes all the hard work worthwhile. He's a very special person and I wish him years of health and happiness."
Speaking about receiving the news that a suitable set of lungs had been found, Ben said: "[My wife] Daisy and I wept with joy. In the best-case scenario, people with CF wait for around a month, sometimes up to three years, but too often, never.
"It's hard to explain the happiness that donor and their family gave us last year, ripples of positivity.
"During isolation, other dads might see Father's Day as just another day stuck at home. For me, every day alive and with my family is beyond my wildest dreams."
Ben's comments first appeared in the Sunday Mirror. You can read more about Ben's story here.