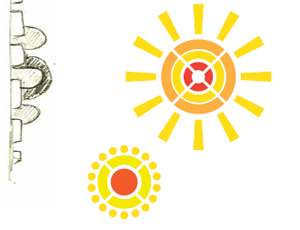 Ceramicist Emily Gardiner is embarking on a new project with the hospitals, to improve long-term transplant patients' experience on Rowan ward at Harefield Hospital, by transforming their view out the windows to become a vibrant and contemporary landscape.
The ceramic sculptures, suggestive of the warmth of the Mediterranean sun and sea will allow viewers to contemplate and project their own meaning onto them.
We are currently fundraising to deliver the ceramic sculptures, with a view to add the nature element in the future.  
Award winning artist, ceramicist Emily Gardiner has created a beautiful art and nature proposal to provide a leafy view and colours all year round, ensuring continuity in interest. 
This art and nature commission aims to:
create a high-quality art commission that provide beauty, colour, movement and texture all year around
provide a much more vibrant and uplifting surrounding for the unit
enhance the patients' experience over the length of time they spend in the hospital
help induce positive thoughts and feelings in patients
contribute to, and impact positively on patients' health and wellbeing (Ulrich, 1984; Staricoff and Clift, 2011), increase levels of happiness, reduce pain and anxiety in long-term patients
Emily Gardiner will start engaging with patients on Rowan and ITU wards in September 2018.