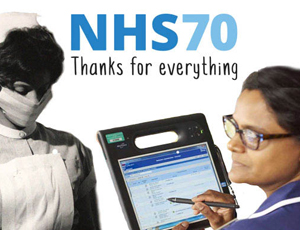 NHS 70: Thanks for Everything is a commemoration of the history of care provided in our hospitals to mark the 70th anniversary of the National Health Service, delivered thanks to the Heritage Lottery Fund.
Themed on gratitude in healthcare, the programme comprises an exhibition, workshops, talks on gratitude by Giskin Day (Royal Brompton Hospital only) and NHS7tea celebratory events on 5 July featuring tea and cakes, Singing for Breathing performances on wards and workshops.
The exhibition presenting gratitude expressed through art, heritage and communication, unveiling of a permanent artwork by self-titled craftivist and celebrated social heritage art installation artist Carrie Reichardt, will remain on display until 30 September at Royal Brompton Hospital Sydney Street coffee shop, and travel to Harefield Hospital Re-Beat until December 2018.
Detailed programme:
Crafternoons NHS70 Edition
Birthday banners, bunting and placard-making workshops based on archival materials. 
20 June 2018 at Harefield Hospital
21 June 2018 at Royal Brompton Hospital
Lunch-time lectures and gratitude tours by Giskin Day
Royal Brompton Hospital 
'How can gratitude inform high-quality care?' - followed by a Gratitude tour. 
2 July 2018, 12.30pm 
A lot of gratitude is expressed which helps to maintain the morale of healthcare workers during times of great strain on the NHS. This talk considers the expression and reception of gratitude in healthcare followed by a walk to look at physical representations 
'Gratefully Yours' followed by a Gratitude tour. 
10 July 2018, 12.30pm 
The Almoners' letters exchanges with former TB patients highlight some of the fascinating stories of stigma and stamina from those whose voices are not usually heard in history.
Big7Tea
5 July 2018 12.30 - 4pm
Royal Brompton Hospital Boardroom and Harefield Hospital Concert Hall. Drop in.
Staff and patients will come together to enjoy tea and cakes, and to write thank-you cards to the NHS. Singing For Breathing groups will visit wards with birthday placards and singing Happy Birthday. Giskin Day will introduce the event at Royal Brompton Hospital.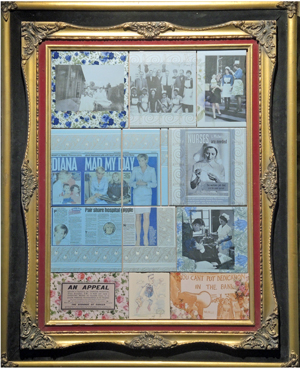 Exhibition 'Thanks For Everything' featuring a new permanent artwork by Carrie Reichardt.
Using stories and images found through volunteer-led archival research at the Royal London Hospital Archives and interviews, Carrie will create a series of shrine-like pieces bringing together the then and the now of care at the Trust across the ages. Additional to her pieces, expressions of gratitude, gifts and artworks will be displayed along heritage pieces as well as staff interviews to help viewers thread back the evolution of art, food, drugs, nursing, patient care and technology at the Trust.
NHS70: Thanks for everything video
This video commemorates the Trust and its work, with a big thank you to the volunteer-led research and contributions from patients and staff. 
We also have a series of videos from and patients and staff looking at many different aspects of the NHS.