Between January and March 2019, twelve members of staff successfully completed the Starting Out in Research programme, run by the Imperial College Academic Health Sciences Centre (AHSC).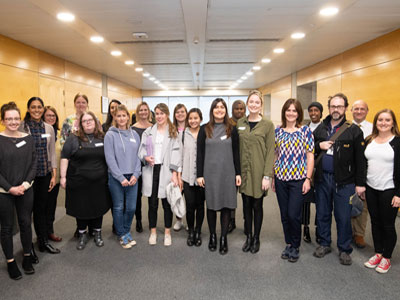 The programme is part of AHSC's education and training activities and was originally developed at Royal Brompton Hospital by Professor Mary Morell who spotted the gap in training and guidance being offered to non-medics who wanted to take up research opportunities. 
Having proved successful, the programme expanded to include the AHSC partners and is now run under the AHSC's Clinical Academic Training Office (CATO). 
The programme is targeted at NHS staff such as allied health professionals, nurses, midwives, pharmacists and healthcare scientists, with the aim of developing the skills and confidence they need for a career in research.
Delivered by academics and healthcare staff from across the AHSC partnership, the programme covered topics ranging from how to identify a research question, and how to involve patients in studies, to analysing quantitative and qualitative data, and preparing grant proposals for funding. Participants also heard from peers about their own experiences of research and developing clinical academic careers.
Some of the coaches invited to help guide this year's participants with their research aspirations were former participants themselves, having completed the programme in 2017. Yvonne Bingham, paediatric research nurse at the Trust and 2017 programme participant, coached this year's cohort. 
"I went on the programme last year and I found it really helped to develop my own research work," she said. "I was asked to be a coach this year and it has been a really great experience. I enjoyed sharing my own research experiences and advising this year's participants on the steps needed for a research career. I also enjoyed hearing their own ideas and seeing them becoming more confident over the duration of the programme." Yvonne said.
The course is due to run again in 2020. 
---
The AHSC is a joint initiative between Royal Brompton & Harefield NHS Foundation Trust, Royal Marsden Hospital, Imperial Healthcare Trust and Imperial College London. The AHSC aims to transform healthcare by turning scientific discoveries into health advances to benefit local, national and global populations in as fast a timeframe as possible.
---
Find out more about our research events.