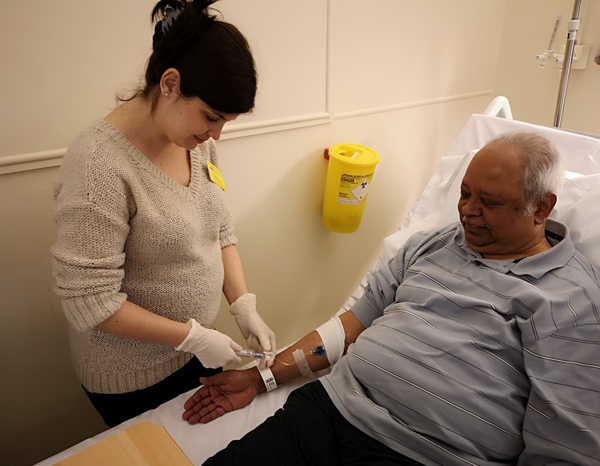 A clinical trial led by Professor Toby Maher has managed to recruit more than half of the overall target of patients from Royal Brompton Hospital alone. 
RECITAL, as the trial is known, is looking at patients who suffer from a range of connective tissue disease-associated interstitial lung diseases (CTD-ILD). The double-blind trial aims to determine which of two drugs, cyclophosphamide or rituximab, is best for treating the condition.
Patients with connective tissue disease are often diagnosed with associated interstitial lung disease due to the high activity of their immune system, resulting in inflammation and scarring of the lung tissue. When CTD-ILD is severe or progressive, immunosuppression is required to prevent further lung damage. RECITAL covers a number of conditions, including systemic sclerosis, polymyositis, dermatomyositis and mixed connective tissue disease.
Cyclophosphamide is the current standard of care for patients with severe or progressive CTD-ILD in the NHS, which is administered as a monthly intravenous drip for six months. Rituximab is an intravenous immunosuppressant drug which has traditionally been used to treat other immune diseases such as rheumatoid arthritis.
The study aims to recruit 116 patients by August 2019 and so far, the Trust's ILD research team have managed to recruit 60, making it the top recruiting site in the country.
Lyn Paul, the lead ILD research nurse at the Trust, insists that patients at the Trust are always keen to participate in clinical trials, making her job easier:
"The enthusiasm of our patients to get involved in research is amazing. Being in a trial can sometimes involve longer or extra visits to the hospital which can be daunting. The patients that participate are as keen as we are to advance the knowledge and treatment of these devastating diseases, and not necessarily for themselves, but for future patients."
Lyn credited the success in recruitment to the dedicated research team which included research nurses Clara Aicart and Natalie Dwyer, trial manager Matthew Gill, Dr Peter Saunders, Dr Maria Kokosi and Dr Philip Molyneaux.
Professor Toby Maher, a world-leading expert for ILD, has a wide portfolio of clinical trials and research studies at the Trust thanks in part to the large number of ILD patients seen at the Trust.
"We are in desperate need of better treatments for scarring disorders of the lung. RECITAL will answer important questions regarding which drug should be used to treat individuals with severe or rapidly progressive CTD-ILD. It is a testament to the enthusiasm of patients and staff at Royal Brompton that we are close to completing recruitment for this ground-breaking trial."
The trial is funded by the National Institute of Health Research and is taking place across 11 hospital sites across the country, including Royal Brompton & Harefield (as the lead site), University Hospital Southampton NHS Foundation Trust, Royal Devon & Exeter NHS Foundation Trust, the Royal Free Hospital NHS Foundation Trust, Sandwell & West Birmingham Hospitals NHS Trust, Oxford University Hospitals NHS Foundation Trust, Sheffield Teaching Hospitals NHS Foundation Trust, Aintree University Hospital NHS Foundation Trust, Cambridge University Hospitals,  Manchester University NHS Foundation Trust, University Hospitals Coventry & Warwickshire.
If you would like to find out more about this study, or any of our other studies, please contact us at research-findoutmore@rbht.nhs.uk.
---
The ILD Research Team will shortly be advertising for a full-time nurse to work on this trial. This is a fantastic opportunity for clinical nurses to continue to practise their clinical skills in addition to gaining experience as a research nurse within a dynamic team of researchers. For more information please email l.paul@rbht.nhs.uk