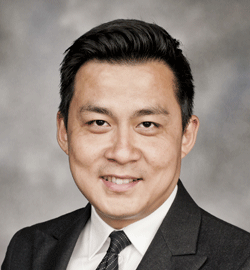 27 June 2018
Mr Eric Lim, consultant thoracic surgeon at Royal Brompton Hospital and reader in thoracic surgery at Imperial College London, has successfully secured a collaboration with Guardant Health, a US-based biotechnology company that specialises in genomic cancer testing and is a world-leader in the field of non-invasive diagnostics.   
Together, they will combine their expertise to define the frequency of blood-based cancer mutations in the blood after lung cancer surgery and determine any association between tumour (DNA) mutations detectable in the blood and cancer recurrence. By offering genomic cancer testing using blood samples, it offers the potential of removing the risks associated with tissue biopsies and (in future) to offer early treatment to patients with trace evidence of recurrent cancer. 
When any type of cell in the body, including a cancer cell, dies, its DNA is released into the bloodstream. Guardant Health will support the study by using DNA sequencing to analyse the blood samples taken from cancer patients to identify circulating tumour DNA (fragments of DNA that are derived from tumours in the body).  
An out-of-hospital model will be tested as study patients will be sent pre-packaged kits that contain special blood tubes to take to their GPs for their blood samples to be collected. Patients will be monitored at several points throughout the study, starting from just before the surgery and then up to eight additional times post-surgery, up to five years. 
At the same time, patients will also be clinically followed up to 12 months and then through a self-reported questionnaire covering topics such as hospitalisations, information on scans and biopsies, date of cancer recurrence, and types and dates of cancer-related treatments. 
This study, which is currently awaiting regulatory approval from an ethics committee, will be carried out as a sub-study of a larger ongoing project that aims to evaluate the effectiveness of keyhole surgery for lung cancer on clinical outcomes and patient experience (VIOLET study - video-assisted thoracoscopic lobectomy (VATS) versus conventional open lobectomy for lung cancer, reference 13/04/03). This larger study, funded by the National Institute for Health Research (NIHR) Health Technology Assessment Programme, is expected to lead to a better understanding of the role of minimally invasive surgery for lung cancer and help inform NHS policy. 
Mr Lim's research has always had a strong focus on patient care and he aspires to make thoracic surgery as painless and with as little disruption to the patient's life as possible. 
"This study is one of the first UK wide translational research studies in lung cancer surgery to define the clinical utility and impact of circulating tumour DNA, and to identify cancer before is it visible on scans. We have partnered with the industry leader Guardant Health to bring benefits of precision medicine to be able to identify and treat recurrent cancer earlier.  The work will also form the basis on which to develop a screening test for lung cancer."
The collaboration also involves the Clinical Trials and Evaluation Unit at Bristol University, Bristol Royal Infirmary, Liverpool Heart and Chest Hospital, James Cook University Hospital in Middlesbrough, John Radcliffe Hospital in Oxford, Castle Hill Hospital, Hull and East Yorkshire Hospitals NHS Trust and Heartlands Hospital in Birmingham.
If you would like to find out more about any of our research, please email us.