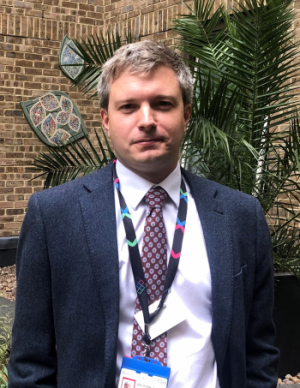 Congratulations to Dr Richard Jones, cardiology clinical research fellow at Royal Brompton and Harefield hospitals, who was selected as a winner of the Young Investigator Award for 2021 at the European Society of Cardiology (ESC) Congress.
The annual ESC congress provides an opportunity for young researchers to present their most innovative and novel research under several categories to panels of renowned experts.
Dr Jones presented his research which looked at the use of cardiac magnetic resonance (CMR) imaging in patients with coronary heart disease (CHD), to determine whether it would be possible to predict the likelihood of sudden cardiac death.
His research looked specifically at the scarring in the hearts of patients and identified several shape-based scar metrics that would be able to predict the likelihood of sudden cardiac death in patients with CHD.
Dr Jones was selected to receive the award under the "Spotlight of the Congress (Sudden Cardiac Death)" category. Upon receiving the award, he said:
"I am delighted to receive this award on behalf of a fantastic collaboration between Royal Brompton and Harefield Hospitals, The National Heart and Lung Institute and King's College London. Special mention to the fantastic nursing team at the RBH Cardiovascular Research Centre.
"Current tools to predict sudden cardiac death are limited and in-depth assessment of myocardial scar by CMR may permit a more personalised approach to patient management. I look forward to sharing more of our work in the coming months".
Professor Sanjay Prasad, consultant cardiologist, with whom Dr Jones works with, said:
"Current guidelines target patients for advanced therapies and costly devices on the basis of heart function and symptoms. Whilst this approach has utility in identifying those at highest absolute risk largely based on poor heart function, around 70% of sudden cardiac death occurs in patients with heart function that is mild or moderately impaired, leaving a large cohort at risk uncaptured by such stratification.
"The aim of Richard's work is to see if we can improve prediction of those at risk based on the presence of scar tissue in the heart and using novel machine learning tools."
To find out more about our research, please contact us.