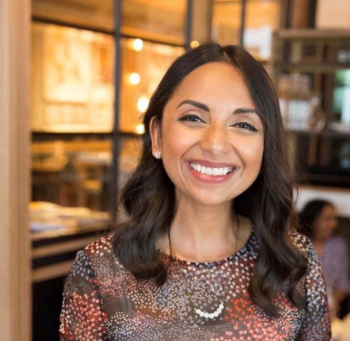 Congratulations to Dr Upasana Tayal, cardiology registrar at Royal Brompton and Harefield hospitals and Clinical Lecturer at Imperial College London, who was selected as this year's winner of the Young Investigator Award by the American College of Cardiology (ACC).
The ACC present the award to scientific investigators upon whom 'progress in the field of cardiology is dependent'. They have three distinct award categories: basic and translational science, clinical investigations and outcomes research. 
Dr Tayal won first place in the clinical investigations category for her research into dilated cardiomyopathy (DCM), a disease of the heart muscle where it becomes stretched and thin, making it difficult to pump blood around the body effectively. 
Using machine based learning tools on data from the cardiovascular biobank at Royal Brompton Hospital, alongside clinical, genetic and imaging data, Dr Tayal and her team managed to identify new subtypes of DCM. 
These subtypes were found to have distinct characteristics and clinical outcomes, which suggest they may they have different underlying causes. 
So, what does this mean for patients with DCM? 
Identifying subtypes within a disease means that patients could potentially benefit from precision medicine, a model that allows treatments and therapies to be tailored to a subgroup of patients, rather than a 'one‐treatment‐works‐for-all' approach.
Dr Tayal said she felt "super proud" to be a finalist for the ACC Young Investigator Award;
"I was in the company of some amazing scientists from around the world presenting great research. I really enjoyed giving my talk and discussing the science with the judges. I was honoured to be a part of it. This work was a major team effort between our team at Royal Brompton Hospital led by Professor Sanjay Prasad, and our collaborators in the US and Netherlands. 
"I think our findings are the beginnings of making sense of the great variations within DCM. Understanding those variations will hopefully let us target the right treatments, to the right patient, at the right time." She said.
Dr Tayal presented her work during the ACC's annual conference which was held virtually this year from 15-17 May.
Dr Tayal's next step is to apply for an Intermediate Research Fellowships so she can continue her research to find out how best to care for patients with cardiomyopathy.