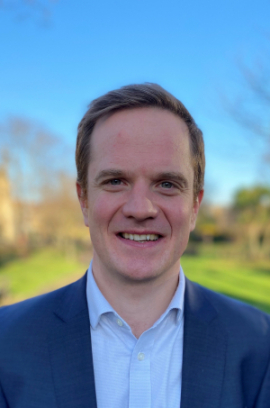 A research publication, authored by Dr Brian Halliday, specialist registrar at Royal Brompton and Harefield hospitals (RBHH), has won the first annual 'Cardiovascular Research Centre (CRC) publication award' in 2021.
The research, published in October 2020, looked at patients with a previous diagnosis of dilated cardiomyopathy where medication was withdrawn due to improvements in their heart failure. The researchers found that withdrawing the medication led to a relapse of their condition, and by using specialist cardiovascular magnetic resonance techniques, the team were able to examine the structural and functional changes that characterised relapse in fine detail.  
The CRC publication award is made possible thanks to the Royal Brompton & Harefield Hospitals Charity, which was gifted a donation to support a prize of £1000, generously donated by Professor Sir John Strang from King's College London.
Upon receiving the award, Dr Halliday said;
"I am delighted to receive the first CRC publication award. It is a huge honour because a lot of great research has been produced by colleagues within RBHH over the last year. I am very lucky to work within a great team and have the support of great mentors."
 
The award will be made available once a year for the best cardiovascular research publications on research conducted across RBHH.   
The judges on the panel for the award scored submissions on several criteria, including impact on clinical practice, improving the understanding of cardiovascular disease and novelty of the research.
Professor Dudley Pennell, director of the Cardiovascular Magnetic Resonance (CMR) unit at Royal Brompton Hospital, and chairman of the Cardiovascular Research Committee, said;
"We are pleased to launch this annual competition which will recognise the innovative research carried out by our cardiovascular researchers at RBHH.
"There were some excellent submissions in this first round which covered a wide breadth of cardiovascular research. Dr Halliday's paper in particular demonstrated the importance of understanding cardiovascular disease and is an excellent example of the kind of novel research undertaken at our hospitals."
The full publication, titled 'Myocardial remodelling after withdrawing therapy for heart failure in patients with recovered dilated cardiomyopathy: insights from TRED-HF' can be viewed here.