A 'simple' modification of domiciliary (i.e. designed for use at home) non-invasive ventilators could significantly reduce oxygen consumption by hospitals treating Covid-19-related respiratory failure, a study by engineering and medical specialists at Royal Brompton Hospital has found.
Domiciliary ventilation is commonly used as a non-invasive way to help patients with chronic respiratory conditions breathe while they sleep.
Additional oxygen is often added into the circuit of ventilation machines through an oxygen inlet connected to an oxygen source (in a hospital setting, this is typically a central reservoir). However, not all of the oxygen that is delivered to patients on ventilatory support goes into the patient. While the oxygen is used when they breathe in (the inspiration phase), when they breathe out (the expiration phase) much of the oxygen is released back into the atmosphere, which can result in a large amount of wasted oxygen.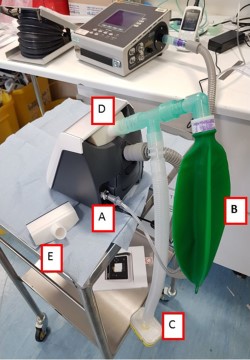 Dr Yoseph Mebrate, lead clinical engineer, and colleagues at Royal Brompton Hospital looked at how this wasted oxygen could be captured and redistributed to patients during the expiration phase. To do this, the team designed and produced an inlet adapter (pictured) using 3D printing that would form the basis for new apparatus applied to two commonly available devices for domiciliary ventilation. The findings, published in leading respiratory medicine journal Thorax, showed that the modified ventilators were able to successfully capture the oxygen released in the expiration phase that would have otherwise been discarded. As a result, the ventilators delivered a higher fraction of inspired oxygen (FiO2) – or oxygen-enriched air – compared with standard use of the devices.
Describing what the findings could mean in light of the Covid-19 pandemic, Professor Michael Polkey, consultant chest physician at Royal Brompton Hospital and one of the lead authors of the study, said:
"One of the problems of Covid is that patients sometimes require large quantities of oxygen. This relatively simple modification of two standard, commonly used domiciliary ventilators presents a possible solution to shortages in medical-oxygen supplies that have overwhelmed some hospitals in their fight against Covid-19. Although not without their limitations, the results of this study prove that there are viable ways for hospitals to become more 'oxygen efficient'.
"The key here is understanding how oxygen released during the expiration phase can be safely re-used by the patient so as to ensure less or no oxygen is wasted. As a result, this should leave hospitals with enough oxygen supply to treat more patients at any given concentration of oxygen-enriched air (FiO2 ). Increasing the amount of oxygen hospitals can deliver through one ventilator increases the number of ventilators that can be used, and in light of what we have seen during the Covid-19 pandemic globally, these findings may be timely.
In their commentary of the study, the editors of Thorax congratulated the team on "engineering a turbocharged non-invasive ventilator."
Royal Brompton Hospital houses the largest centre in Europe to provide domiciliary non-invasive ventilation to patients with respiratory conditions, including chronic obstructive pulmonary disease (COPD) and cystic fibrosis (CF). We treat and care for over 1,800 adults and children who use domiciliary ventilators at home.