After nearly five years of planning, designing and building, the Royal Brompton Diagnostic Centre (formerly known as the Imaging Centre) is entering the final stages of completion after being officially handed over to the Trust by main contractor, Kier, as construction has now completed.
Construction on the purpose-built diagnostic centre began in January 2020. The imaging facilities offered at Royal Brompton and Harefield provide cutting edge services to help diagnose cases of heart and lung disease. Building on this capability, the new diagnostic centre will help expand clinical services, improve patient experience and enhance research, education and training programmes for staff.
The majority of the hospital's imaging services including magnetic resonance imaging (MRI), CT, ultrasound, echocardiogram, interventional radiology, transoesophageal echocardiogram (TOE) and bronchoscopy scanning will be provided from the new building.
The next stage in the process will be to prepare the centre for patients, also known as commissioning the building. This will include safety and systems checks, the installation of interventional bronchoscopy equipment, x-ray equipment and a new CT scanner, as well as training for staff.
Piers McCleery, director of strategy and corporate affairs and diagnostic centre programme director said: "Part of our commitment to improving patient care involves providing the best facilities to deliver specialist heart and lung treatment, and research – and the new Royal Brompton Diagnostic Centre delivers on just that. This is one of the largest projects ever carried out at Royal Brompton and Harefield, and it would not have been possible without huge contributions of time and effort from a large number of our staff."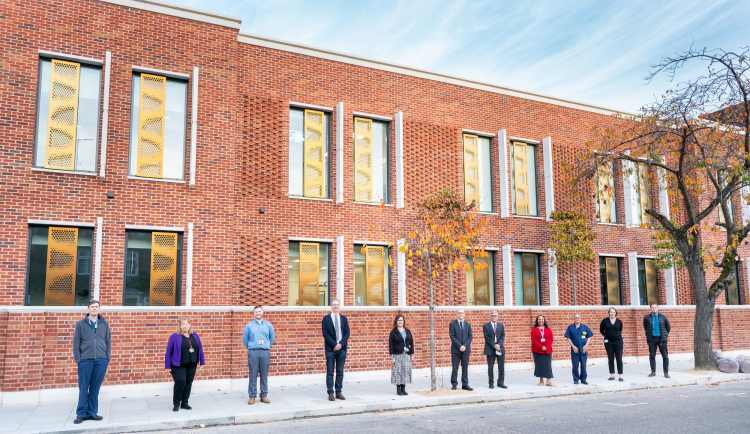 Planning for the Diagnostic Centre project began in 2018 and construction started in January 2020. Included among the milestones achieved:
The building shell and internal core were finished at the end of 2020, with approximately 7,200 tonnes of concrete being used – almost equalling the weight of the Eiffel Tower. 

In early 2021, the roof, equivalent to the size of four tennis courts, was finished, and the site was connected to mains electricity. Access to our existing hospital buildings was made possible by adding link bridges to Chelsea and Britten Wings.

In summer 2021,  a landmark moment was reached with the installation of some of the most advanced clinical MRI scanners on the market, a state-of-the-art 3 Tesla (3T) machine and two 1.5 Tesla (1.5T) scanners, which will help increase diagnostic capabilities, reduce scanning times and improve overall patient experience.  
Alongside these milestones, the project has brought upgraded transoesophageal echocardiogram (TOE) equipment and a new interventional bronchoscopy suite for the radiology department, as well as patient-centred artwork and light installations which will transform waiting areas, corridors and consultation rooms.
Matt Davis, Kier project manager, who has been involved in the project since the beginning of 2019, said: "I am immensely proud of what has been achieved throughout what has been a challenging period in everybody's lives. The project's close proximity to live hospital buildings, extensive basement excavation and a small space to construct was always going to present significant challenges but my Kier team and our supply chain have really delivered. I am excited to see the building fully occupied early next year."
The following timeline tracks the development of the Royal Brompton Diagnostic Centre, from the beginning of its construction phase in January 2020: Royal Brompton Diagnostic Centre: a timeline | Royal Brompton & Harefield hospitals (rbht.nhs.uk)