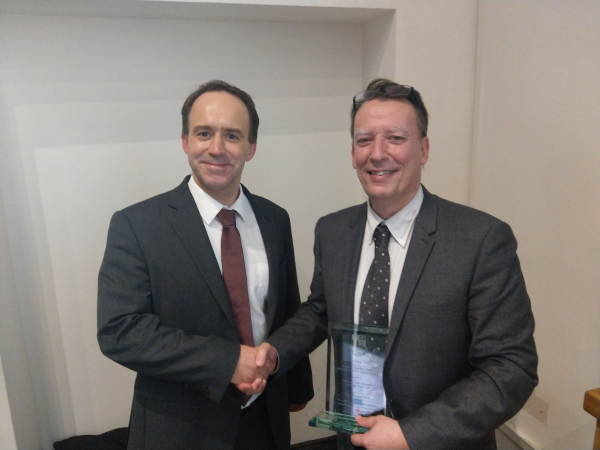 Royal Brompton Hospital and the National Heart and Lung Institute (NHLI) welcomed Marc Humbert, professor of respiratory medicine at the Université Paris-Saclay, for the 12th annual Paul Wood Cardiovascular Lecture on Wednesday 28 November, entitled 'An update on pulmonary arterial hypertension and future directions.' 
Pulmonary arterial hypertension is a chronic, life-threatening disease where blood pressure in the arteries between the heart and lungs is abnormally high and can, ultimately, lead to heart failure and a need for transplantation. It is a sub-group of pulmonary hypertension (PH), for which Royal Brompton is a centre of excellence.
Professor Humbert is director of the French Reference Centre for Pulmonary Hypertension at Hôpital Bicêtre in Paris and, among others, is a fellow of the European Respiratory Society and former chief editor of the European Respiratory Journal.
Welcoming Professor Humbert, Dr John Wort, clinical lead for pulmonary hypertension at Royal Brompton and reader at the NHLI, said: "Marc is one of the leading lights, if not the leading light, in pulmonary arterial hypertension. It's a pleasure to welcome him both as an international colleague and as a friend. In fact, Marc spent several years at the NHLI and continues to be a fantastic collaborator with us."
Professor Humbert told the audience: "I feel very at home here. In fact, I gave a lecture here back in 1995 and I can see many friends from Royal Brompton, as well as further afield."
A serious condition
He stressed that despite advances in drug development, pulmonary arterial hypertension remains a very severe condition, acknowledging that: "Basic, translational and clinical research has driven drug development, and we have a very strong history with 14 new drugs developed in the past 20 years.
"That's a lot, but they work on just three 'pathways' for the disease. We don't yet have drugs for the other potential pathways involved."
He explained how the Guidelines for the diagnosis and treatment of pulmonary hypertension, published just three years ago have already been cited 4,000 times: "The guidelines are very good, and I think that's because they're not specific to lung or heart and because they were also drawn up with input from colleagues in paediatrics, rheumatology and transplant, for example."
Professor Humbert went on to explain that although pulmonary arterial hypertension is rare, it doesn't qualify as an 'orphan disease', and that drug discovery remains a priority so clinicians in specialist centres can treat patients with currently unmet needs: "there's room for a lot more discoveries."
However, Professor Humbert ended on a positive note, citing that combining the available drugs, rather than using them in isolation, was proving beneficial for some patients, and that the benefits were also being seen in treating patients more aggressively at an earlier stage in their disease.
Raising awareness of a rare disease
The lecture comes shortly after colleagues from Royal Brompton, other PH specialist centres, the UK and Ireland PH associations, as well as staff from pharmaceuticals company Actelion UK and Ireland, completed a 220-mile cycle ride from Royal Hallamshire Hospital in Sheffield to London via Royal Papworth Hospital to raise awareness of the condition.
Dr Wort, who took part in the ride, said: "Although we work in different hospitals, our patients are at the centre of everything we all do. We know that if GPs suspect pulmonary hypertension and refer them to a specialist centre, we can give them world-class care and they'll have improved outcomes.
"One of the challenges is that GPs see a lot of patients with breathlessness. It can take two years for patients to be given a definitive diagnosis of PH and there's a lot of education to do so that doctors and patients connect the symptoms with the disease.

"Pulmonary hypertension causes breathlessness, fatigue and chest pain, so we were all really aware that this bike ride simply would not have been possible for our patients – and that helped drive us on."
Along the way, the team held a series of educational events, starting in Sheffield, following another at Royal Papworth Hospital and finishing at Imperial College London