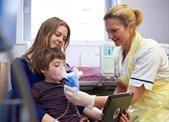 Royal Brompton & Harefield NHS Foundation Trust has been awarded special funding from the Cystic Fibrosis Trust to scale up its clinical trials for the disease, which help to pioneer new treatments for patients across the country. 
The 'clinical trials accelerator platform' is a UK-wide initiative to bring together CF centres, increase participation and improve access to CF clinical trials nationwide.
As one of the Cystic Fibrosis Trust's new 'lead trial accelerator centres', Royal Brompton Hospital will receive funding for a dedicated CF trial coordinator to oversee the day-to-day running of its clinical trials.   
By developing a trials network with other London NHS trusts, including King's College Hospital and Barts Health NHS Trust, Royal Brompton will ensure that people with CF across the capital have the opportunity to take part in clinical trials.
Collectively, the first batch of trials accelerator centres will provide improved access to clinical trials for over 6,000 people; more than half of the UK population of people with cystic fibrosis – and the number is set to grow when more centres join the programme later this year.
Professor Jane Davies, honorary consultant in paediatric respiratory medicine, said: "As the largest centre for CF in Europe, we offer highly specialist lifelong care to adults and children with the condition. We are also at the forefront of genetic research and involving our patients in pioneering new treatments.
"This funding from the Cystic Fibrosis Trust will help us scale up our involvement in research even further and the new CF trials coordinator will provide a vital support role that we are sure will make a real difference to the way we conduct CF research."
The cystic fibrosis centre at Royal Brompton Hospital is one of the largest in Europe, caring for around 700 adults and 340 children, and is a world leader in the development of new treatments. In 1965 the Trust established the UK's first adult cystic fibrosis service in response to the increasing number of patients living with the condition into adulthood. 
Join the team today, and help find the treatments of tomorrow 
We are keen to hear from experienced clinical trials coordinators who would be interested in helping us take this work forward.  A post is currently available for an enthusiastic and dynamic clinical research coordinator, who will provide specialist research and clinical care for CF trial participants. The post-holder will assist in the management, coordination and implementation research programmes, undertake research and clinical audits and provide clinical supervision to other staff and students. 
Visit the NHS Jobs portal to apply. 
Patients and families will also be invited to join a Cystic Fibrosis Trust focus group as part of the programme. Find out more information about CF trials at Royal Brompton & Harefield NHS Foundation Trust by emailing researchfindoutmore@rbht.nhs.uk.