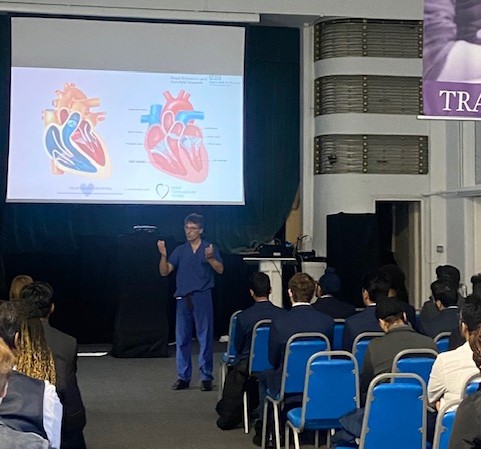 More than 70 school students attended Harefield Hospital's annual 'Your Heart Hospital' event that aims to educate students about the importance of cardio-pulmonary resuscitation (CPR), offer an insight into the wide range of careers in cardiovascular healthcare, and enhance understanding about what takes place in a specialist heart hospital like Harefield Hospital.
Youngsters from schools and colleges local to Harefield attended the event, which has been running for over 10 years. The day started with a welcome from Dr Dalby and a talk on 'how the heart works' by Dr Dominic Lowcock, education fellow.
Dr Miles Dalby, consultant cardiologist at Harefield, who launched the event in 2012, said: "Central to our event has been to explain what goes on in a heart hospital like ours. We want to enhance an understanding about the causes, prevention and treatment of heart disease.
"A further crucial part of the event is to help educate our attendees, particularly young people, about the importance of resuscitation training. Most cardiac arrests occur in the home or at work, so learning how to do CPR and how to do it effectively could potentially save someone's life. Finally, and very importantly, the event aims to introduce young people to the huge range of career options available in the hospital, including the many and varied allied healthcare professional roles."
The students were taught key CPR skills by the hospital's specialist resuscitation instructors, led by Alison Pottle, nurse consultant, and Elia Keating, resuscitation officer. They then participated in a live simulation exercise - led by David Jones, consultant cardiologist, and Andy Luker, simulation technician - who presented them with a true to life emergency scenario.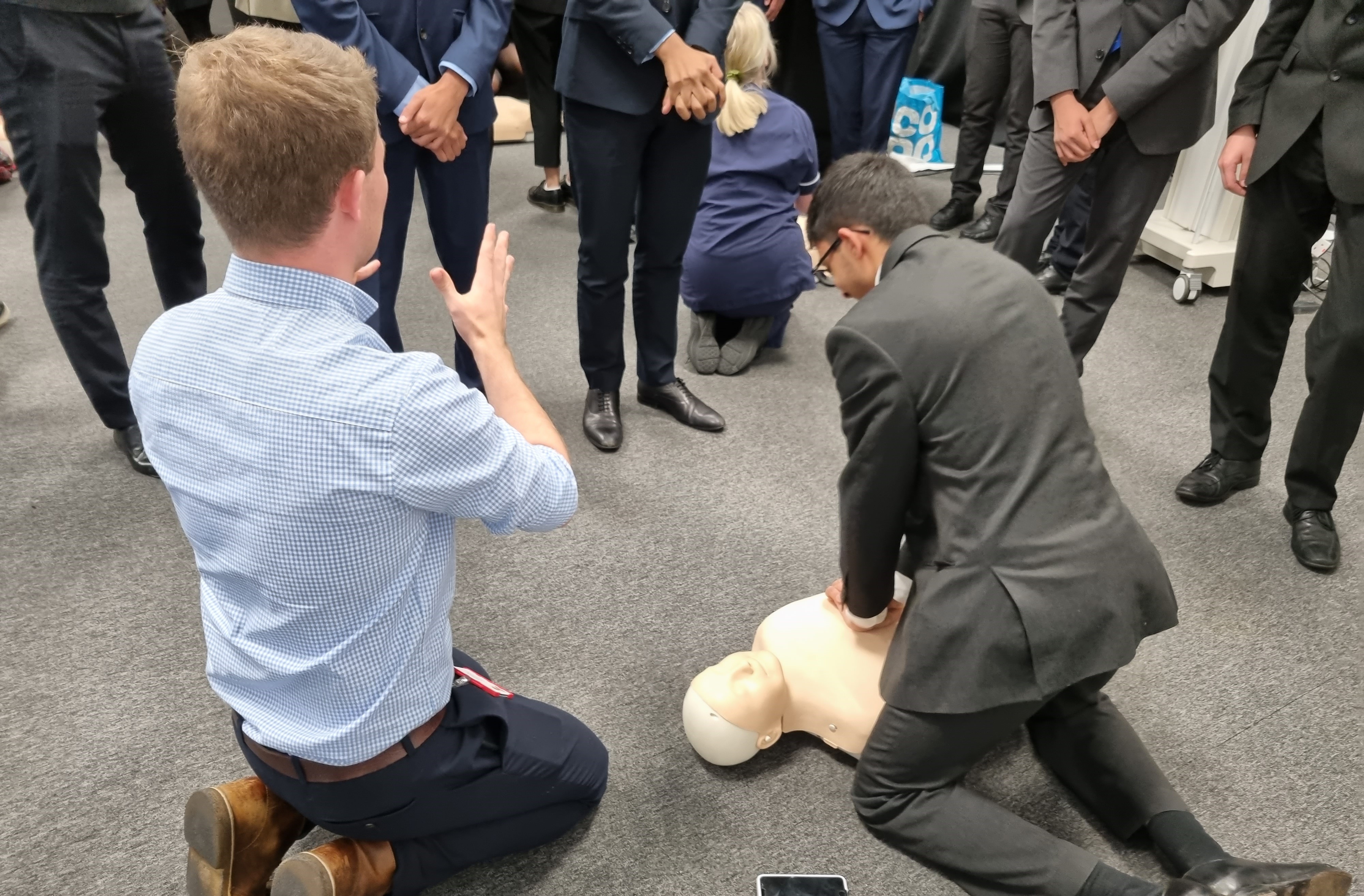 Professor William Toff, professor in cardiology at the University of Leicester, gave a presentation on 'Why we should all be trained as lifesavers', which highlighted the importance of embedding CPR training in the school curriculum. Talking about the importance of everyone having a good understanding of CPR skills, Professor Toff said: "It's vital that every school leaver knows how to recognise and respond to a cardiac arrest should the need arise. The hands-on resuscitation skills training provided to participants in the 'Your Heart Hospital' programme will enable attendees to give a victim of cardiac arrest the best possible chance of survival. The effectiveness of the training was clearly demonstrated by the excellent performance of the students in the simulation exercise. 
"The 'Your Heart Hospital' programme is a superb initiative to raise young people's awareness of common cardiac problems and to introduce them to the wide range of exciting career options in healthcare."
Other specialists at Harefield Hospital who presented at the event included Dr Rebecca Lane, consultant cardiologist and clinical lead for heart failure and complex devices, who spoke about heart rhythm problems and treatments; Dr Mohammed Akhtar, consultant interventional cardiologist, whose presentation covered heart attacks; Dr Ee Ling Heng, adult congenital and structural interventional cardiologist, who spoke about heart valve problems and treatments; and Dr Tina Khan, consultant cardiologist, who gave a presentation about how to prevent heart disease.
The day concluded with a careers surgery and the opportunity for students to speak to a wide range of doctors and allied healthcare professionals about their roles.
Talking about the day, one of the students commented: "It has been a really interesting day. And it's so important that we all know CPR – as you never know what might happen."
Dr Dalby summarised the day and his hopes for future events: "We were thrilled to be able to share our work the students and expand their knowledge of cardiology and the importance of CPR, while also offering them some insight into the many career options available in cardiovascular healthcare."
The day has been such a success it has now been rolled out to other Trusts across the country. Certificates of attendance were handed out by the course administrator, Angela Parker, who runs school liaison, a central part of the course now and into the future. 
To find out more about CPR and useful learning tools, please visit: CPR | Resuscitation Council UK