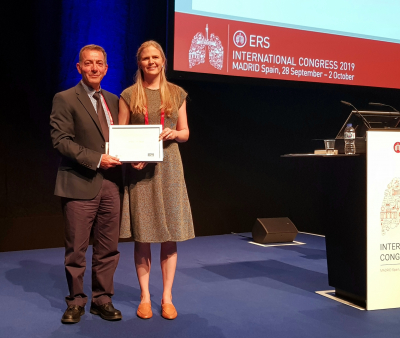 It has been a month of successes for the respiratory research group at Harefield Hospital, who have been recognised, both nationally and internationally, for their work on pulmonary rehabilitation and chronic obstructive pulmonary disease (COPD), through awards and appointments. 
One project, led by Jessica Walsh (pictured), a respiratory physiotherapist working with Dr William Man, was awarded 'Best Abstract' under the category of rehabilitation and chronic care at the European Respiratory Society (ERS) conference, earlier this month. 
The conference, this year held in Madrid, showcases the best of respiratory medicine research and is an opportunity for clinicians and researchers to share important developments in lung care and research. 
Jessica's research aims to determine whether gait speed (walking speed) could be used as a point of care test (a test that is done at, or near, the place of patient care) to help determine how patients with COPD are progressing.
"It is well-recognised that lung function tests give clinicians only limited information about how COPD is affecting their patients. My study shows that by using a simple walking test, which takes less than one minute to perform and can be done in clinics and GP practices, we were able to more accurately predict outcome in over 800 patients with COPD." Jessica explained.
Dr Man's extensive work on pulmonary rehabilitation has also been recognised with his appointment as co-chair for the British Thoracic Society (BTS) Pulmonary Rehabilitation Guidelines Development group, which will review the latest scientific evidence over the next 18 months in order to produce clinical practice recommendations.
"The British Thoracic Society guidelines are very well respected and widely read across the world. I am delighted to be able to contribute to these guidelines which should be a valuable resource for those providing pulmonary rehabilitation in the UK and beyond." Dr Man said. 
Dr Claire Nolan, senior research physiotherapist, who also works in the Harefield Respiratory Research group under Dr Man, was recognised by the American Thoracic Society with an Early Career Achievement award. She has also been appointed as co-chair for the BTS Pulmonary Rehabilitation Advisory group, which is responsible for ensuring that standards in delivering pulmonary rehabilitation are improved and maintained across the UK.
---
To find out more about any of the research mentioned in this story please contact us. To read more of our research stories, please click here.