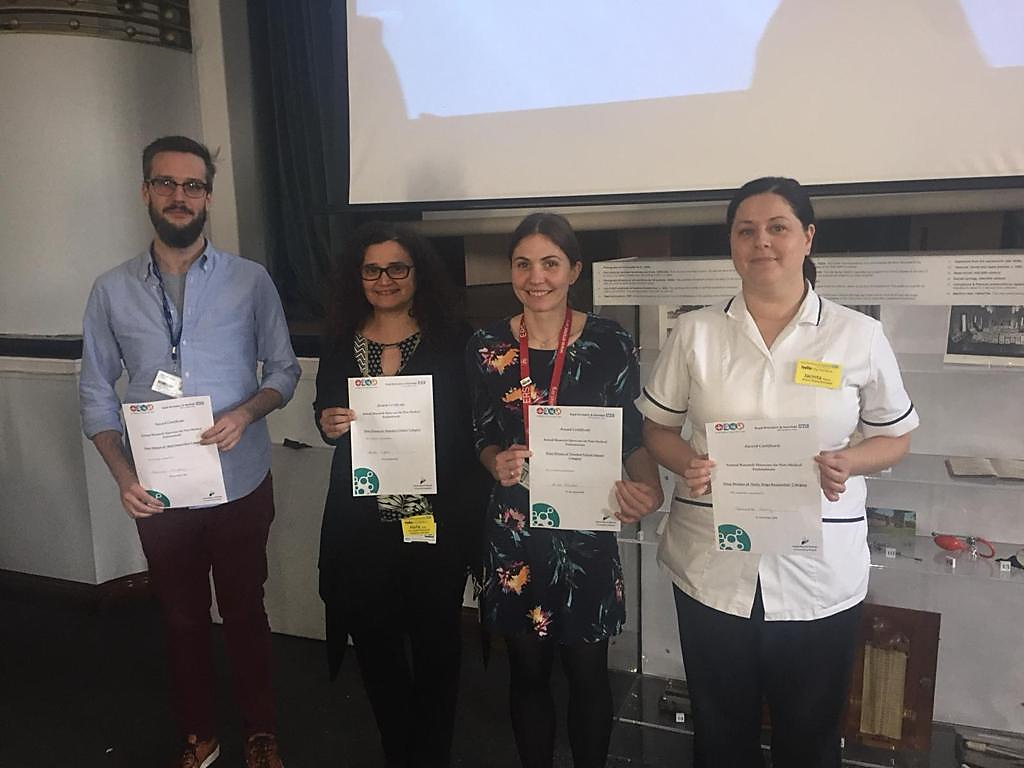 Harefield Hospital was host to the Annual Research Showcase 8 November, with staff from across the Trust presenting their research through posters and oral presentations. 
The event, which has been running for over 12 years, is an opportunity for all staff to highlight the research they are undertaking and to share it with fellow colleagues.
With over 80 staff and guests in attendance, the showcase started off with an opportunity to view the posters on display which represented a wide range of research topics, including speech and language therapy, cystic fibrosis, critical care, COPD, psychiatry and cardiac rehabilitation.
Poster viewing was then followed by research talks and Q&A sessions from Christopher Short on Cystic Fibrosis, Lisa Nwankwo on anti-fungal stewardship and Dr Andrew Scott on MRI.
The event finished on a high with a key note lecture titled "From Westmoreland to Chelsea - A Human Heart Valve Odyssey" from Robert Parker, a Trust governor, who worked at the Trust as the Heart Valve Bank Manager from 1981 to 2011.
Amongst the staff were selected judges who were tasked with choosing winners in four categories; most innovative, greatest patient impact, director's choice and early stage researcher.
Most innovative
Ronan Murphy "The repurposed multiple sclerosis drug, glatiramer acetate, is an antibiotic resistance breaker in Pseudomonas aeruginosa strains from cystic fibrosis patients"
Greatest patient impact
Ruth Barker "Gait speed and mortality following hospitalisation for acute exacerbations of chronic obstructive pulmonary disease: a prospective cohort study."
Director's choice
Dr Haifa Lyster "Caspofungin therapeutic drug monitoring during extracorporeal membrane oxygenation: results from an ex-vivo experiment"
Early stage researcher
Jacinta Deery "The use of inspiratory muscle training (IMT) post lung transplant to aid weaning from mechanical ventilation: A case study"
If you would like to find out more about any of our research mentioned in this story, please contact us.