We are a leading organisation with an international reputation. Joining us means working alongsi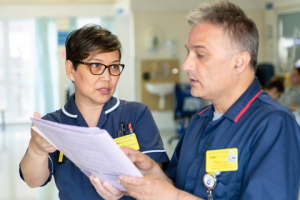 de highly motivated and committed individuals in an environment which takes patient care seriously.
Because we specialise in heart and lung diseases, our members of staff have come from hospitals around Europe, and the rest of the world, to improve and expand their specialist skillset. 
We are always looking to develop our talent, so join us now and apply for one of our vacancies. 
Fraud and staff recruitment outside the UK
We are aware that a number of fraudulent job offers have been made recently, mainly to nurses and medical professionals in the Philippines, but also in some other overseas recruitment areas. We are working hard to resolve this matter but if for any reason you have concerns about the legitimacy of a job advertisement or job offer, please contact the nurse recruitment department on +44 (0)20 7352 8121.