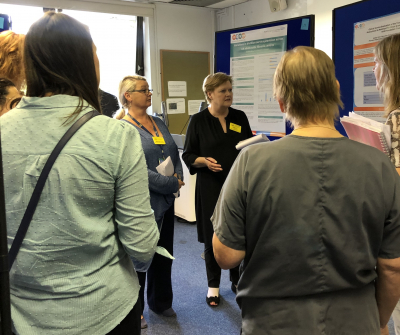 Post-traumatic stress disorder, artificial intelligence and intensive care research were just some of the projects on show at this year's successful Annual Research Showcase (ARS). 
The ARS, now in its thirteenth year, is an established part of Royal Brompton & Harefield NHS Foundation Trust's research calendar. The event offers an exciting opportunity for non-medical staff in the Trust to showcase their work and for all staff to learn about the novel and cutting-edge research being led, and delivered by, their colleagues.  
With over 70 staff and guests in attendance, the showcase began with an opportunity to view the posters on display which represented a wide range of research topics, including asthma, cystic fibrosis, diabetes, critical care, COPD, psychiatry and cardiac rehabilitation. 
The afternoon was an opportunity for staff to hear a variety of research talks from a selection of presenters, followed by a keynote speech titled 'Why research?', delivered by Dr Samantha Irving, chief paediatric respiratory research physiologist.
Dr Irving, who has extensive achievements in research, shared her experience of being a researcher, the role a researcher plays in the clinical environment and top tips for those starting out in research. 
On the impact research has on patient care, Dr Irving memorably said, "the research you carry out will improve care for patients in hospitals you never worked in and countries you have never visited."
The posters were judged by well-established senior staff who have a wealth of research experience. This year's judging team consisted of Haifa Lyster (consultant pharmacist), Dr Claire Nolan (specialist pulmonary rehabilitation physiotherapist), Felicia Cox (head nurse of pain management), Suzie Thomas (chief clinical physiologist), Helen Parrott (clinical speciality lead) and Marina Nicholas (head of post-graduate education). 
The judges were tasked with choosing winners in four categories; Most Innovative, Greatest Patient Impact, Director's Choice and Early Career Researcher. A list of the winners can be found below. 
One of the judges, Claire Nolan said "We have been blown away and humbled by the range of excellent research being carried out by Trust staff. This has made judging today a very difficult task." 
The Director's Choice Award winner, clinical psychologist Debbie Ford, said; "We are very proud to have won the Directors Choice award for our project. Our staff are the lynchpins of patient care, patient safety and intervention. Without investing in them our system would break down. We hope by highlighting our work, this good practice can be shared and continue to grow."
If you would like to find out more about any of our research events please contact us. 
To view the posters from the event please click here. 
The winners
Director's Choice
Debbie Ford and David Smith for their poster presentation, "Posttraumatic Stress Disorder Prevalence in Emergency Interventional Cardiac Catheter Laboratory Staff; A Pilot Interventional Study."
Most Innovative
Guang Yang for his poster presentation, "Artificial Intelligence for Scar Detection in Chronic Myocardial Infarction Using Nonenhanced Cardiac MR: Goodbye to Gadolinium?"
Greatest Patient Impact
Zainab Khanbhai for her poster presentation, "Innovative pathway model for the detection and treatment of atrial fibrillation- The Capture AF Service."
Early Career Researcher
Chloe Meehan for her poster presentation, "Responsiveness and Construct Validity of the Chelsea Critical Care Physical Assessment Tool in a Cardiothoracic ICU."