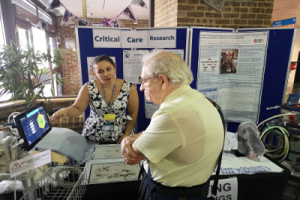 Sketching the heart, honeycomb lungs and beat boxing were just some of the creative stands on display at this year's research open day, aiming to highlight the world-class research done out at Royal Brompton and Harefield hospitals.
Staff, patients, visitors and local students were invited to attend the eighth annual heart and lung research day, where staff from across both hospitals demonstrated their research using accessible and hands on activities. 
Visitors were given the chance take part in a mock clinical trial which involved being "treated" with different kinds of chocolate, as well as a chance to "diagnose" lung disease by listening to recordings on a computer of healthy and unhealthy lungs. The Trust's Art's team demonstrated their unique work involving singing and beatboxing for lung health. 
One visitor, Roxanne D'Aguiar, came to the open day having previously taken part as a participant in research at the Trust. She said: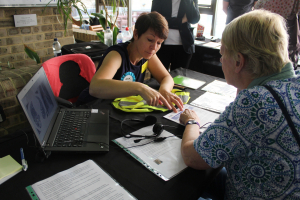 "It's really interesting to see all the incredible work that's being carried out throughout the hospital. I have experienced first-hand the impact health research can have on a person's life and it's great that there are so many innovative studies taking place across different fields, for patients with a range of conditions."
Vennela Boyalla, a cardiovascular research fellow working with Dr Tom Wong, took the novel approach of exhibiting her research into atrial fibrillation by creating a sketch work of the heart with working catheters attached.
She said: "For me these kinds of events serve multiple purposes; they inspire school children into science careers, encourage the public to participate in research and educate patients about interventional treatments."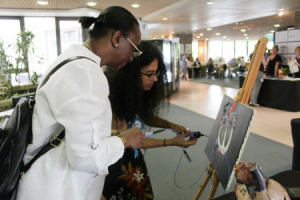 Mahitha Gummadi, a research coordinator with the pulmonary hypertension team, gave visitors the opportunity to have a heart painted on their hands and to learn more about how pulmonary hypertension causes changes in the structure of the heart.
Mahitha said "The research open day is an opportunity for patients and the wider public to explore the fun and creative side of the science behind research but it's also a great way for us to find out what the public's views and thoughts are on the work we do."
Laura Henderson, research development manager, led the chocolate trial to help visitors understand the steps involved in a clinical trial: 
"The chocolate trial breakdown some of the core concepts of clinical trials such as informed consent and randomisation in a fun and light-hearted manner. It was a great way of attracting visitors to the stand, giving them an insight into what it means to take part in research."
If you would like to find out more about any of our events or any of the research we do, please contact us.