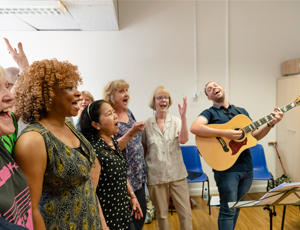 Singing for Breathing aims to enhance existing physiotherapeutic support for respiratory conditions by introducing patients to a new form of enjoyable, informal exercise, teaching a better understanding of breath control through the use of the voice.
Singing for Breathing helps patients to:
Learn breathing techniques

Release physical tension

Meet new people

Have fun! 
Singing for Breathing is funded entirely through charitable donations. Set up in 2008, the project has developed and blossomed, with the model being adopted by many other hospitals across the country. 
The groundbreaking programme has received extensive national media coverage, and is featured on the NHS Choices website.
To hear more about the project, why not listen to our feature on BBC Radio 4's afternoon show - click below to listen. With thanks to the BBC.
Listen to the mp3
Singing for Breathing on Radio 4 (MP3, 4.4MB)
Workshops 
Open group workshops are held once a week at each Hospital - please contact us before your first visit to confirm times and location.
Harefield Hospital - every Monday (please note: this group is now at full capacity)
Harefield Library
Park Lane
Harefield
Middlesex
UB9 6BJ
Arrive at 11.15am for registration. The workshop is between 11.30am and 12.30pm followed by tea.
Uxbridge Christ Church – every Monday
Bailey Hall Christ Church
Redford Way 
Belmont Rd 
Uxbridge 
UB8 1SZ
The workshop takes place from 2 to 3pm. 
Royal Brompton Hospital - every Tuesday
Quiet Room
Victoria Ward
Fulham Wing
Royal Brompton Hospital.
The workshop is between 11am and 12pm. 
Workshops are open to all respiratory patients at the Trust.  If you would like to come along please, contact email arts@rbht.nhs.uk or call 020 7352 8121 ext 84087 to confirm times and locations.  
Singing for Breathing CD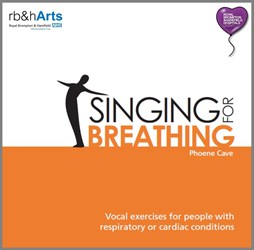 Buy a copy of the Singing for Breathing CD for £10 
Alternatively, you can send a cheque made payable to 'Royal Brompton and Harefield Hospitals Charity' to:
rb&hArts
Royal Brompton Hospital
Sydney Street
London
SW1 6NP
If paying by cheque please remember to include your name and postal address for us to send the CD to.
If you would like to find out more about Singing for Breathing, or would like to attend one of our classes for the first time, please do contact us on 0207 352 8121 x 4087, arts@rbht.nhs.uk
The Lung Cycle - a day of creative investigation into singing for breathing
Opera Singer James Platt, creative writer Rob Young and visual artist Paul Gent were brought together by Phoene Cave (singing for lung health trainer) and Adam Lewis (COPD research physio) to explore what it means to live with breathlessness with patients from Royal Brompton Hospital. 
One of the outputs was this fantastic newspaper which shows their creative investigation into singing for breathing.
The Lung Cycle (PDF, 4.3MB)