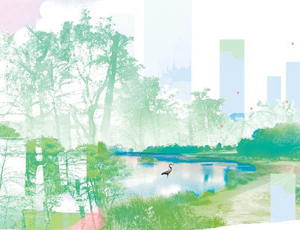 rb&hArts runs an innovative arts programme at Royal Brompton and Harefield hospitals. It is designed to improve the clinical environment, improve patient experience, and enhance the well-being of patients, visitors, staff and the local communities surrounding each hospital. 
The department manages a permanent collection of 1,200 artworks, delivers bespoke visual arts commissions, and runs an innovative participatory arts programme, comprising music on the wards and workshops. We engage over 5,000 people each year, often participating in the arts for the first time.
Sign up for our monthly e-news
Covid-19 update
In light of COVID-19, we are pleased to offer a selection of our Arts Programme online to support people in hospital or at home through access to creative activities.
Join our Facebook group to enjoy live sessions with musicians including violinist Adrian Garratt and singer-songwriter Stac Dowdeswell, learn to beatbox, join a Singing for Breathing class, and much more. 
You can also visit our Vocal Beats YouTube channel, which has a host of online tutorials designed by our youth ambassadors to help young people learn and develop breathing techniques through singing and beatboxing. 
If you have a suggestion, idea, or want to host a workshop, please get in touch by emailing arts@rbht.nhs.uk. Our programme relies on charitable trusts and donations to help keep it going. We thank each and everyone of you for helping us bring the arts to the hospital communities. Make a donation. 
Follow rb&hArts
You can follow rb&hArts on Twitter, Instagram, Facebook and YouTube. You can also contact them by calling 020 7352 8121 ext 84087 or emailing arts@rbht.nhs.uk
What we do
We run a number of continuous programmes in music and singing, craft and bespoke projects:
Singing for Breathing

 
Weekly workshops to learn breathing techniques, release physical tension, meet new people and have fun. This programme is generously funded through individual donations, as well as the Samuel Gardner Trust, The D'oyle Carte Foundation and the Morrisons Foundation.
Find out more about Singing for Breathing.
Commissions 
We work with artists and in collaboration with departments to improve clinical spaces, and enhance the patient experience in the hospitals. We also manage a collection of 1,200 pieces of art that are displayed in patients' areas and across the hospitals. 
Find out more about our commissions
 
Current projects
The Peace Gardens with Emily Gardiner 
Working with Groundwork London and ceramic artist Emily Gardiner, we are renewing underused green spaces at Harefield Hospital. Spaces outside the hospital's transplant and intensive therapy units will be transformed to give patients the ability to enjoy them from within their rooms, as well as outside it. 
Vocal Beats 
Two days a week on the paediatric ward, lead music facilitators Heather McClelland and Stac accompanied by beatboxers Bellatrix and Mc Zani, take young inpatients on a musical journey. The project aims to enhance levels of wellbeing, music skills and confidence. It is funded by BBC Children in Need, The Brompton Fountain, the Coop Foundation and Youth Music.
Find out more about the project.
 
Musicians in residence 
Musicians Adrian Garratt and Stac Dowdeswell provide live music on our adult wards each week. 
Find out more about our musicians in residence programme.
Exhibitions
rb&hArts manages temporary exhibitions in a number of public spaces across the hospitals – including the Coffee Shop at Royal Brompton Hospital and the ReBeat gallery at Harefield Hospital. Exhibitions include the annual staff & patients arts show, as well as artist showcases - if you have something you would like to exhibit get in touch. 
Crafternoons
We work with artists and craftisans to run monthly 'crafternoons' and participatory workshops.These take place in public spaces and on wards. Everyone is welcome! To register your interest to attend or if you would like to share a skill, please email us at arts@rbht.nhs.uk.
Contact arts@rbht.nhs.uk to register your interest or if you would like to share a skill.
The Imaging Centre
Work on a new imaging centre at Royal Brompton Hospital began in April 2019, and we are collaborating with a number of patients, artists and designers to create a space that is comforting and supportive to all our patients. If you would like to be involved in the design and delivery process, please email us at arts@rbht.nhs.uk.
Volunteer with us
We have some new and exciting volunteering opportunities for those who are looking to work with our Arts team and to learn some new and crafty skills! Find out more. 
Donate
We are hugely grateful to the support from our programme sponsors without whom the programme would not take place. These include the Royal Brompton & Harefield Hospitals Charity, Arts Council England, BBC Children in Need, The Brompton Fountain, BUPA, the Coop Foundation, Greener City Fund, Heathrow Community Fund, HS2 Ltd, the Morrisons Foundation, The National Lottery Community Fund, the Samuel Gardner Memorial Trust, and Youth Music.
Additionally, we receive individual donations from participants to our programme and through community fundraising. We thank each and everyone of you for helping us bring the arts to the hospital communities.
Past commissions
The Singing Hospital with Victoria Hume and Singing for Breathing, 2019
Our singing for lung health programme celebrated 10 years and becoming the longest-running group of its kind. To mark this important milestone, songwriter Victoria Hume, who also launched the Arts Programme and Singing for Breathing, created a new composition with participants, performed in a grand setting. Watch the performance.
NHS 70: Thanks for Everything with Carrie Reichardt, 2018
A commemoration of the history of care provided in our hospitals to mark the 70th anniversary of the NHS, delivered thanks to the Heritage Lottery Fund, leading to a permanent artwork by self-titled craftivist and celebrated social heritage art installation artist Carrie Reichardt. Find out more about our celebrations and watch the videos.
---
Reports and strategies 
Read about rb&hArts' 10-year strategy and 3-year action plan to deliver quality arts and culture to improve the health and wellbeing of patients, staff and the community surrounding our hospitals.