Over the years, rb&hArts is proud to have positively enhanced the clinical environment and brought art to patients.
"The art in and around the hospital(s) is one of the best things to have happened in the Trust over the last few years in improving the ambience and working environment."
Arts in healthcare settings has been evidenced to:
induce positive physiological and psychological changes in clinical outcomes
reduce drug consumption
shorten length of hospital stay
promote better doctor-patient relationships
improve mental wellbeing
support patients manage long-term conditions
(Staricoff and Clift, 2011) 
Recent projects
'Botanical Mandala', SDNA, 2016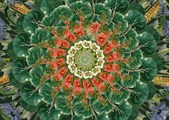 Theatres' patient reception, Harefield Hospital
The digital artwork is a kaleidoscopic projection of medicinal flowers, slowly spreading across the wall to the sound of birds singing. The contemplative installation has been created to help patients relax before they undergo surgery.  
Illustrations, Will Clarke, 2016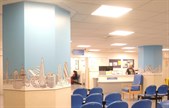 Outpatients, Royal Brompton Hospital  
Will Clarke's London scenes are beautifully intricate architectural illustrations of London. The artist's infamous single block colour now helps patients navigate between East and West areas. 
'Everyday Landscapes',Jacqueline Seifert, 2016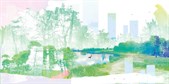 Foulis Ward, Royal Brompton Hospital
The artist works has completely changed the way patients and staff sees the ward, by adding beautiful urban sceneries, and floral designs to bring colour, movement and freshness. Her designs open the ward, filling it up with fresh air.       

'Stream', 2015
Collaboration between visual artist Emma Hunter and Dr Philip Kilner, Consultant and Reader in Cardiovascular Magnetic Resonance.
Stream creates visual parallels between the flow form patterns created by the artist's own flow experiments using mica dust, and the flow form patterns found in the bloodstreams of the heart, using stills from Dr Kilner's film.