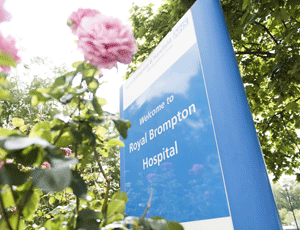 Royal Brompton Hospital outpatient department is in Fulham Wing / South Block. This building is separate from the main hospital building and is located on Fulham Road.
Coming in for your first appointment
We have changed the way we send out appointment letters to our patients. Your appointment letter will be available digitally via the Healthcare Communications Portal. Find out more. 
If you need us to make special arrangements before your visit, such as organising an interpreter, or if you need more information, please contact the outpatient appointments team on 020 7351 8011 or the main switchboard 020 7352 8121. 
Coming in for your follow-up appointment
Please remember to bring your appointment card or letter with you. This will help the receptionist check your details and direct you to the relevant clinic, if needed. If you forget to bring your appointment card, we can still see you, but it does help to speed things up. 
When you arrive    
Please ensure you arrive in plenty of time for your appointment, as you may have to complete some tests before we can see you.
If it is the first time you visit the hospital, please go to the main reception desk in Fulham Wing / South Block, which is on Fulham Road. The receptionist will be able to direct you further. 
Once you have been fully registered we might need to do some tests - if so, these will happen before your appointment. If you are having any tests prior to being seen in clinic then you will be asked to arrive early to ensure these are completed before the time of your appointment. 
Once any tests are done or if no tests are required, you will be directed to the relevant outpatient area.  We have three areas – East, West and Paediatrics. They are clearly signed, but if you are unsure where to go, ask at the information point at main reception and they will be able to direct you. 
When you get to your outpatient area, please report to the reception desk there. This is an opportunity for us to check your personal details to ensure our records are up to date so please bear with us if this takes a little time.
Your appointment
We suggest that you allow three to four hours for your appointment. You may want to bring something to read.
To save you making several visits to the hospital, we may ask for some of the tests you need to be done on the same day.
We see patients in the order of their appointment times. Sometimes delays may occur, but we make every effort to see you as near to your appointment time as possible.
You may notice some patients arriving after you going in to see a doctor before you. This is because sometimes we have several clinics running at the same time, and they have an appointment with another doctor.
If you are diabetic, we suggest that you bring some food, just in case there are delays in clinic. There is a kiosk in the Outpatients reception where you can purchase hot and cold drinks and a selection of snacks. There is also a small chop run by the Friends of Royal Brompton by the main entrance to Fulham Wing where you can purchase drinks and snacks. 
We suggest that you:
Bring a friend or relative along with you to your appointment – they can help you to remember what is said or make notes for you
Write down details of your symptoms, including when they started, and what makes them better or worse
Write down two or three important questions you may want to ask
Avoid bringing small children, where possible, so that you can concentrate on what is being said
Seeing the doctor
When it is getting close to your time to be seen, a nurse or clinic support assistant will call your name. In some cases we will need to weigh you and carry out some other checks at this point.
You will be seen in a consulting room by a doctor or appropriate health professional. We aim to see you as close to your appointment time as possible, but delays can happen. This is because some patients can require unexpectedly long consultation and emergencies also occur.
As Royal Brompton and Harefield are both teaching hospitals, students may be involved in your care. Students are always supervised by fully qualified staff. This does not affect the quality of your treatment but does give valuable training to the students. Please tell us on the day if you do not want students to be present. This will not affect your care.
Bookings and contact details
General outpatient appointments - 020 7351 8011
Lung function unit - 020 7351 8910
Echo clinic - 020 7351 8209
CT scanning - 020 7351 8220
Pacing clinic - 020 7351 8647
​​​​​​Transport - 020 7351 8012
If you need to change or cancel your appointment, you can do this via the Healthcare Communications Portal, find out more. 
Overnight accommodation
Most outpatients come in for a daytime appointment without an overnight stay. However, if you are coming far for your appointment you may be able to stay in our overnight accommodation.