We are changing the way we send out appointment letters to our outpatients at Royal Brompton Hospital. You would normally receive your appointment letter through the post, but with Healthcare Communications Portal, you will receive a digital copy, and be able to manage your appointment online and in real-time.
This video explains more about the interactive service and how to use its different features.
Benefits of the digital Healthcare Portal
There are many benefits to this new system for patients:
You won't need to wait for your letter to come through in the post, it will be automatically sent to you via text
When you get your text, there will be an easy one-click link for you that is completely unique to you, and a four-digit PIN that will give you access to the portal
Simply click the link, put in your date of birth and the four-digit PIN and your appointment letter will be there with your booking options.
You can confirm, rebook or cancel your appointment with just one click
It all updates in real-time, meaning that if you cancel your appointment, someone else will get their treatment sooner
You can add your appointment to your own calendar to get reminders
You can receive your letter and clinic information in over 98 different languages, and listen to the appointment information in 40 languages.
When you arrive for your appointment, all you need to do is scan the QR code in your digital appointment letter at the self-serve kiosk and you will be automatically signed in ready for your appointment.
SMS reminder guide
If you have already opted in for our reminder text message service, you will know that you can confirm, reschedule or cancel your appointment without needing to phone us and risk having to wait on hold. Instead of receiving an appointment letter through the post, our new system will send you appointment reminders to your smartphone.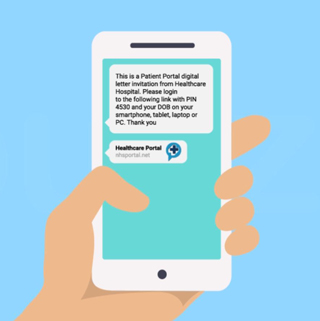 You will receive a text reminder to your smartphone with your appointment details.


There will also be a four-digit PIN code that you will need to use to log into the healthcare appointment portal.


In your text message, there will be a unique link that you simply click to take you through to the portal.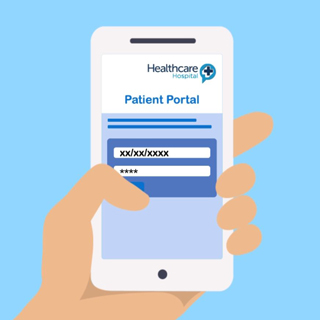 When you go through to the Healthcare Portal, put in your date of birth and PIN code from the text message.
This will take you through to your appointment detail page.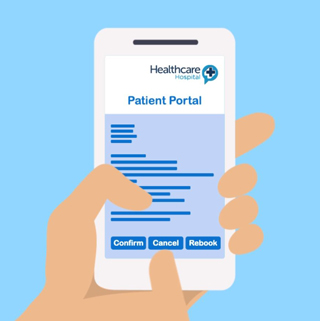 There are three options for your appointment; confirm, rebook and cancel. 
Confirming your appointment will let you add the appointment to your own calendar and send you a reminder nearer the time. 
You can also rebook your appointment if you can't make the date in the letter. Just click the button, and our team will call you back as soon as they can to agree a date and time that works for you! 
You can cancel the appointment completely, which will alert the hospital in real-time so someone else can get their treatment sooner. If you still need to see us, you can just reschedule your appointment for another time. 
Useful information
If you are having trouble using your digital appointment letter and the healthcare portal, you can call the department directly.
Royal Brompton Hospital:
Pacing - 020 7351 8647
Echo - 020 7351 8209
Lung function - 020 7351 8910
Nuclear medicine - 020 7351 8666
CT scan - 020 7351 8220