Search all our current allied health professionals (AHP) vacancies. All roles must be applied for via NHS Jobs.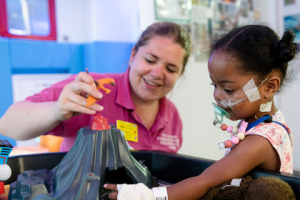 We are aware that some websites are claiming to be recruiting on our behalf. If you see anything like this or have any concerns about the legitimacy of a job advertisement, please call our recruitment team on 0207 351 8121 so we can deal with it immediately.
---
Highly Specialist Speech and Language Therapist
Location: Harefield Hospital
Salary: £43,712 - £49,325 pa in HCAS
Vacancy expiry date: 14 September 2021
An exciting new post has arisen for a highly specialist speech and language therapist to join the rehabilitation and therapies team, based at Harefield Hospital.
You will be be supporting tertiary level patients with complex dysphagia, acquired communication disorders and tracheostomy needs. You will also participate in regular objective instrumental swallow assessments (FEES and VFS).
You will be a driven, dynamic and enthusiastic individual who has a passion, and clinical interest in the hyper-acute and critical care setting.
Please note this position is a fixed term six month contract.
---
Diagnostic Radiographer
Location: Royal Brompton Hospital
Salary: £37,638 - £44,780 pa in HCAS
Vacancy expiry date: 17 September 2021
An exciting new post has arisen for a diagnostic radiographer to join the radiology team, based at Royal Brompton Hospital.
The post offers the chance to develop specialised skills in heart and lung imaging. You will receive comprehensive training in both CT, IR and the catheter labs, with a focus on cardiac and respiratory procedures. You will be trained to undertake a full range of cardiac catheter interventions, cardiac CT including both adults and paediatrics, scanning and assisting in interventional CT and a variety of interventional radiology procedures. 
You will be working throughout all areas including general X-Ray, fluoroscopy, CT scanning and the cardiac catheter labs. Currently, there are six cardiac catheter labs, including a hybrid theatre/cath lab and two Siemens CT scanners, and later this year, a new diagnostic imaging centre with state-of-the-art facilities will open.
You will be expected to take part in an out of hours service and extended days, and you are able to opt into private lists if you wish. Short term accommodation is available on site if required.