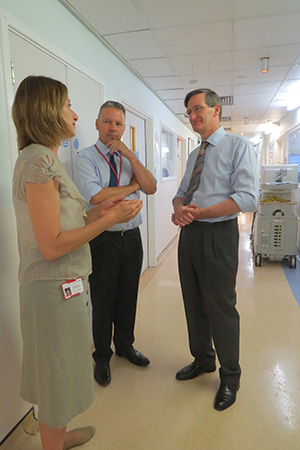 When NHS England (NHSE) announced plans to decommission Royal Brompton's world-leading CHS services, we received overwhelming support from patients and their families, charities and pressure groups, parliamentarians, local government and other key partners. 
Background
Congenital heart disease, as the name suggests, is heart disease that is present at birth. It can now be diagnosed in the womb, and one of the great strengths of the care offered at Royal Brompton is that the specialist pregnancy service run in conjunction with Chelsea and Westminster Hospital means that our patients are cared for from the womb through infancy, childhood, adolescence and into adulthood. We believe this is the best way to approach a life-long disease: by giving life-long care.
Royal Brompton has one of the biggest, best and safest CHD services in the UK (with UK CHD services as a whole being among the best in the world). Our adult CHD research programmes are also widely recognised as world leading.
Although they planned to close the service, NHSE expressed no concerns at all about the quality of congenital heart disease care at the Trust. In fact, at a public consultation event, they repeatedly stressed that the care offered to patients at Royal Brompton was of a high standard.
So why were services under threat?
NHSE believed that Royal Brompton did not meet one of around 470 new 'standards' for CHD services. This 'standard' required all Trusts providing a CHD service to have certain other children's services such as gastroenterology (for problems with digestion) and general surgery based on the same site, in case they are needed. This is called same site 'co-location'.
Specialist trusts such as Royal Brompton have partnerships with other hospital trusts so that clinical opinion across a wide number of other specialties, in addition to their own heart and lung expertise, is readily available. Our formal (contractual) partnership with Chelsea and Westminster, just a few minutes' walk away, has been in place for several years, and means that expert opinion can be gained within a short timeframe across a number of services, both during and outside normal working hours, without patients needing to move.
Consultants, such as gastroenterologists and general surgeons, are jointly appointed between the two trusts and part of their contract (job plan) is allocated to Royal Brompton work. They attend weekly joint clinical meetings, joint ward rounds, use shared systems, and some nursing staff take part in shared staff rotations.
Chelsea and Westminster clinicians are familiar faces around our paediatric unit and for many parents they are indistinguishable from their Royal Brompton counterparts. When emergency care is needed – within a 30 minute timeframe – colleagues at Chelsea and Westminster have a 100% record of providing it. This is only a feature in 1% of cases (around five children each year).
Although NHSE did not criticise this partnership, the fact that Chelsea and Westminster consultants are not based at Royal Brompton all the time, meant that NHSE judged this way of working to be unacceptable.
During the review that led to the creation of the new 'standard', it became obvious that most doctors did not consider same site co-location essential, yet these views were overruled when the standards were finalised. In fact, the final review report acknowledged that some clinicians felt that "the link between paediatric CHD and adult CHD services is more important than the link between paediatric CHD and other specialist paediatric services." 
Implementing NHSE's plan would therefore have serious knock-on effects:
It would not improve patient care – NHSE was not able to provide any clinical evidence to explain how closing one of the biggest, best-performing and safest CHD services in the UK would improve the care patients receive.
It would disrupt vital research– Royal Brompton is recognised as a world-leading centre for research into new treatments for adult CHD, publishing more research papers on adult CHD than any other centre. Breaking up teams whose collective expertise has been built up over a period of years would set back the search for better treatments and jeopardise the UK's status as a leader in this field.
It would impact other vital services – As explained above, no part of the Trust operates in isolation, and closing the CHD service could force other interdependent heart and lung services – including those for children's cystic fibrosis, severe asthma and muscular dystrophy – to close, leaving 14,000 patients to get their care elsewhere.
It would have significant cost implications– The cost of closing the service and attempting to re-provide it at a number of other centres would cost the NHS millions of pounds, at a time when the NHS is desperately trying to save money nationally.
It would have implications for staff – We employ some of the best doctors and nurses in the country, and they are proud to work at the Trust. Many of our most talented staff have purposely relocated from overseas due to the Trust's reputation. Forcing them to move to other hospitals could result in some leaving the NHS altogether.
Strong support to protect patient care
Throughout 2016/17 our supporters lobbied, wrote, petitioned, tweeted and even marched on our behalf against NHSE's plans. Many thousands of them responded to the public consultation on NHSE's proposals. 
Here are just a few of the many highlights of the campaign:
Nearly 2,000 doctors, nurses, patients, family members and other supporters marched along King's Road in Chelsea, in a protest organised by the Royal Brompton & Harefield Hospitals Charity.
More than 200 leading medical experts from top institutions in 30 different countries wrote a joint letter in opposition to the plans.
80 MPs were contacted by their constituents about the proposals. Many raised the concerns in Parliament and a number of them – including former Attorney General Dominic Grieve and Hammersmith MP Andy Slaughter – visited the hospital to see the service in action.
43 written questions were asked in the House of Commons.
21 MPs issued a joint letter to Jeremy Hunt, Secretary of State for Health.
13 peers gave impassioned speeches in support of the Trust during a House of Lords debate secured by Royal Brompton patient and former House of Commons speaker Baroness Boothroyd.
On November 30th NHS England endorsed a proposal for a joint CHD service with Guy's and St Thomas' NHS Foundation Trust as part of a collaboration with King's Health Partners (the Academic Health Sciences Centre comprising Guy's and St Thomas', King's College Hospital and South London and Maudsley NHS Foundation Trusts and King's College London) across all the Trust's cardiac and respiratory medicine and research.
Facts about our CHD service
Each year we conduct around 14,000 outpatient appointments and 1,300 surgical procedures – more than any other trust in England
Our 30-day survival rate for paediatric CHD surgery is 98.3 per cent
In 2016, 98.4 per cent of cardiology patients said they would recommend the hospital to a friend or family member
An independent review in the International Journal of Cardiology named Royal Brompton the most influential research unit in the world
We have a 100 per cent record of providing the additional services that NHSE says need to be co-located on the same site.