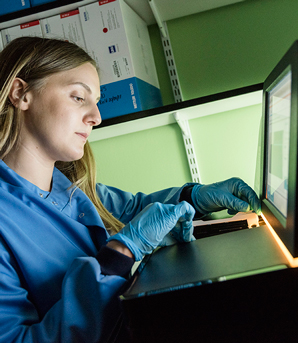 Our pioneering research into heart and lung conditions continues to play a vital role in developing new treatments and improving care for patients. 
In 2016/17, teams at the Trust took part in a number of influential research programmes to discover new ways of treating patients with complex cardiovascular and respiratory conditions. 
Our research is a collaborative effort and we work with other NHS trusts, universities and industry to ensure the necessary financial and academic support and expertise is available to make significant medical advances.
The National Heart and Lung Institute at Imperial College London is a vital partner in our research work. We also have a close partnership with the National Institute for Health Research (NIHR).
We have worked with various other NHS trusts this year, including Chelsea and Westminster Hospital NHS Foundation Trust, The Royal Marsden NHS Foundation Trust, and Liverpool Heart and Chest Hospital NHS Foundation Trust, as well as universities such as Oxford University and Imperial College.
Collaboration with the pharmaceutical and medical devices industries has also given our patients the chance to take part in the latest ground-breaking research. This year we have also worked closely with charities such as the British Heart Foundation and British Lung Foundation, and the charitable foundation the Wellcome Trust, to bring together our respective expertise.
To further our world-leading research, we work with other healthcare organisations around the world on major research programmes, including two ground-breaking studies on the genetics of heart conditions. 
Major research advances in inherited heart conditions 
Several major research advances in inherited cardiac conditions have been made this year.
In a discovery that could open up a new avenue of treatment for inherited heart disease, our researchers have identified the gene responsible for the growth of blood vessels in the heart.
Collaborating with the National Heart and Lung Institute and Imperial College, a research team led by Professor Stuart Cook, director of the genetics and genomics team, has uncovered the importance of the 'Wars2' gene. When this gene was turned off in animals, it reduced blood vessel growth in both the heart and the rest of the body, showing it is an essential gene in blood vessel formation (known as angiogenesis).
In some inherited heart conditions, there are too few blood vessels for the heart to function effectively. The discovery of Wars2 could mean that more vessels could be stimulated in people with these conditions.
Our researchers – in collaboration with the Wellcome Trust Sanger Institute – have also been involved in the largest international study looking at heart disease in children. One of the most exciting findings from this study was that a much higher percentage of congenital heart disease (CHD) is caused by genes passed down from apparently healthy parents than was previously thought. Before this, it had been assumed that CHD was often caused by spontaneous gene mutations, rather than inherited genes.
 Research highlights for 2016/17: 
790 papers were published in peer-reviewed scientific journals, such as The Lancet, Nature, and The New England Journal of Medicine
More than £11 million was raised in external funding for research, from bodies including the National Institute for Health Research, Wellcome Trust, British Lung Foundation and the private sector
£1.2 million was received in awards for non-medical research at the Trust
2,700 patients took part in 200 Trust research programmes – including global studies sponsored by industry, trials involving new medicines or devices, and international registry studies.
This research means that in the future doctors may be able to offer much clearer advice to families about the chances of a child being born with a congenital heart defect. 
Other advances this year in the genetics of heart conditions include:
A study in collaboration with Imperial College London, Oxford University and Partners HealthCare Boston that discovered better methods to assess the significance of gene mutations. This could lead to more diagnoses through genetic testing.
An international study co-led by consultant cardiologist Dr James Ware, in collaboration with the MRC Clinical Sciences Centre, with support from the Wellcome Trust and British Heart Foundation, which showed that around one percent of the population carry a faulty gene that could predispose otherwise healthy people to heart failure, especially if the heart is put under stress.
Work supported by the Wellcome Trust, Department of Health, Medical Research Council and British Heart Foundation that developed a tool (the CardioClassifer) to improve and standardise the interpretation of gene sequencing in the genes of patients with inherited heart conditions.
Cystic fibrosis drug found to improve children's lung function
A combination drug for cystic fibrosis (CF) has been found to improve the lung function of children suffering from the disease.
An international study, which included researchers from Royal Brompton Hospital, showed that Orkambi (a combination of lumacaftor and ivacaftor) can improve lung damage caused by CF in less than two weeks, and could add years to the lives of people with the disease.
CF is caused by mutations in the gene that controls the movement of salt and water in and out of cells. This leads to a build-up of mucus in the lungs and digestive system. 
Orkambi is one of the first therapies to target the most common form of mutation, rather than the symptoms. About half of the people with CF in the UK could benefit from the treatment.
Researchers found that the drug could halt or even reverse lung damage in children under 12 years old. It was also found to slow the loss of lung function in older patients.
The trial involved 204 patients aged between six and 11 years. The results were published in The Lancet Respiratory Medicine.
Jane Davies, honorary consultant in paediatric respiratory medicine, who led the Royal Brompton part of this major trial, said: "This is the first time the lung clearance index has been used in this type of clinical trial.
"It shows that even young children with relatively early stage CF can benefit from new treatments."
The UK is one of the countries with the highest prevalence of CF in Europe, with around 10,500 people suffering from the condition. While prognosis for people with the disease has vastly improved over the years – a child born today is likely to have a mean life expectancy of over 40-50 years – experts stress that early treatment in children is critical for their long-term outlook.
More than £1 million in research awards for non-medical research
Allied health professionals, healthcare scientists and nurses from across the Trust, were awarded research grants totalling £1.2 million during 2016/17.
These non-medical research awards include competitively-secured funding and prestigious fellowships and highlight the strength and depth of research activity across the organisation.
The awards have come from organisations such as the Pulmonary Fibrosis Trust (UK), the Health Foundation, Pharmacy Research UK and the NIHR. They cover research into a range of conditions and treatments, including idiopathic pulmonary fibrosis, atrial fibrillation and extracorporeal membrane oxygenation (ECMO). 
Several of our researchers have also been offered formal training opportunities, such as Masters or PhDs, including clinical doctoral research fellowships with the NIHR.
Professor Mary Morrell, professor of respiratory and sleep medicine, said: "The recent awards are testament to the calibre of staff across the Trust and demonstrate that important research is being carried out across a number of professions."
Next: "Working together to turn today's research into tomorrow's care" >