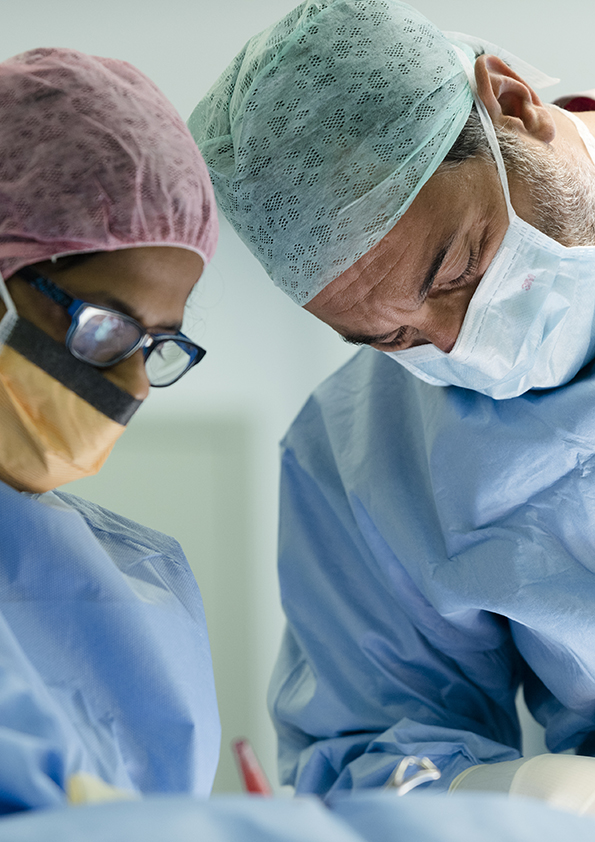 Clinical teams at Royal Brompton and Harefield Hospitals care for patients with a wide range of complex cardiac conditions, both congenital (present at birth), inherited and acquired. 
Our teams are based around the following themes: arrhythmias (irregular heart rhythms), congenital heart disease, heart failure, pulmonary hypertension (high blood pressure in the arteries of the lungs that can lead to heart failure), revascularisation (coronary artery disease), structural heart disease, and heart assessment. 
The adult congenital heart disease (ACHD) unit at Royal Brompton is one of the largest specialised centres in the world, caring for patients with a variety of conditions.
Our experts care for around 100,000 patients and carry out more than 2,000 outpatient appointments each year, with many patients receiving care from the first days of their lives, through into adulthood. 
The unit is also a major research facility, producing more highly-cited research papers than any other, and a world-leading training centre for cardiologists, cardiothoracic surgeons and other clinicians. During 2016/17, this vital service was once again under threat of closure – click here for more information. 
Four year study to give patients greater choice
A major study to see if surgery could be an effective treatment for atrial fibrillation will help patients make an informed choice about their treatment.
The study, led by Royal Brompton and Harefield consultants Dr Tom Wong and Dr Shouvik Haldar, launched in 2015 and will run for four years, supported by Imperial College London and Liverpool Heart and Chest Hospital.
Following a successful pilot, the National Institute for Health Research has committed £1.2 million to enable a full multi-centre randomised controlled trial.
Typically, atrial fibrillation (a disorder that causes an irregular, often abnormally fast, heart rhythm) is treated using catheter ablation, where a catheter is inserted through a vein and used to destroy small areas of tissue that are causing the rhythm problem, combined with drug therapy.
Persistent longstanding atrial fibrillation is harder to treat and patients often need repeat procedures, so the study aims to determine if surgery would be better for this group of patients. It brings together physicians and surgeons, who will take an unbiased look at the pros and cons of their approach in order to develop evidence-based advice for patients.
Dr Haldar, study coordinator, explained: "The pilot study suggested surgery offers better outcomes with just one procedure. We will use the full study to prove that hypothesis.
"We have been asked, as physicians, whether we are putting ourselves out of a job by doing this study, but what is most important is doing a 'real world' study to look at what is best for patients.
"In fact both approaches have advantages and disadvantages. Surgery seems to get better first time results, but it is more invasive so there is more risk of complications. It also involves a much longer stay in hospital, which is not suitable for all patients.
"The most important thing is that by thoroughly exploring both techniques, we can give patients a genuine, informed choice about which route will be best for them."
As well as analysing patients' experiences, and data from a small implantable recorder that detects any abnormal heart rhythms after a procedure, a full economic analysis will look at the cost benefits of both approaches.
The ultimate aim is to influence national guidelines on treatment of atrial fibrillation. Four separate publications by Trust experts are already cited in the current guidelines for this condition.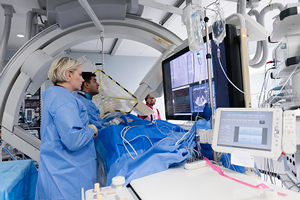 Five years of our innovative cardio-oncology partnership
Beating cancer is a major achievement for any patient, and increasing numbers of people are surviving the disease every year. 
A significant side effect of cancer treatment for some patients is damage to the heart caused by chemotherapy drugs, and more and more people are living with heart problems caused by their cancer medication.
In response to this emerging challenge, consultant cardiologist Dr Alexander Lyon teamed up with neighbouring specialist cancer hospital The Royal Marsden – to create the first dedicated cardio-oncology clinic in the UK.
The clinic, which this year celebrated its fifth anniversary, now sees 200 patients each year, some of whom are still fighting cancer, and others who are in remission. Patients are referred to Dr Lyon by oncologists, surgeons and anaesthetists at The Royal Marsden.
Services offered by the clinic include identifying early signs of cardiotoxicity – a type of heart failure that can be caused by some chemotherapy drugs – in patients undergoing cancer treatment, and a risk assessment service for people with pre-existing heart conditions to ensure they are fit to undergo surgery where required, or to support their heart function so they can receive the optimal cancer drugs.
Dr Lyon said of the service: "This is a partnership that truly has the patient at its heart. Working in close collaboration with colleagues here and at The Royal Marsden, we can ensure every individual receives both the very best cancer and cardiac care.
"My first question to the oncologist when I have a patient who is having heart problems, is 'is the cancer responding to this drug?', because if it is, we will move mountains to support the heart so that they can continue the drug.
"What we are doing has two clear benefits for the patients – it helps prepare heart patients for the rigours of cancer treatment by ensuring they are in the best possible health at the outset, and it helps cancer patients go on to live as full a life as possible after treatment."
The clinic is an efficient one-stop-shop: patients have cardiac scans and blood tests in the morning, results are reviewed by Dr Lyon and his team of cardiologists, clinical fellows and clinical nurse specialists, and are discussed with patients on the same day.
Royal Brompton hosts Europe's first cardio-oncology conference 
Royal Brompton was asked to host the annual international cardio-oncology conference in 2017 – the first time this event has ever been held outside the USA.
A total of 325 experts from 33 countries attended to discuss best practice and latest research developments in this growing branch of medicine.
Dr Lyon said: "The organising committee greatly appreciated the support of the Trust as official academic and institutional partner. There was an outstanding series of lectures on a range of topics in modern cardio-oncology, ranging from immunotherapy, radiation-induced cardiovascular disease, and myeloma drugs and heart disease, through to how to set up and run a cardio-oncology service – as well as an inspirational talk from a patient."
Award-winning bra helps women recover from heart surgery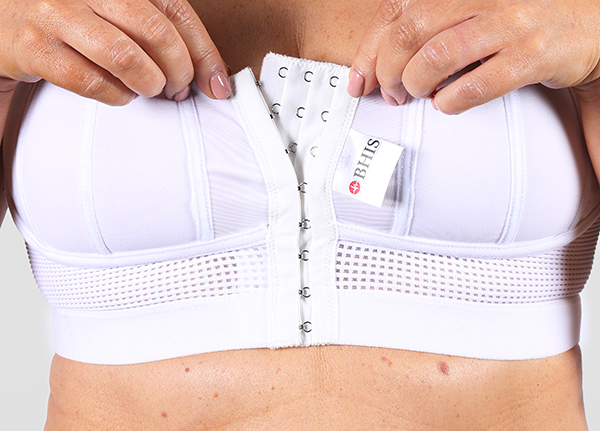 Nurses from Royal Brompton and Harefield have designed an innovative, award-winning bra that helps wounds heal after heart surgery. 
A team led by Melissa Rochon, clinical nurse specialist in surveillance, worked with medical manufacturer CUI to design and manufacture a bra for patients who have trouble with wound healing after cardiac surgery. 
Research shows that women are more likely to have surgical site infections (SSIs) than men, because if their chest area is not properly supported, pressure can be put on the chest incision, causing the wound to gape. 
Existing post-surgery bras with removable straps were only available up to a D cup, but fluid weight gain is common after heart surgery and around half of all women need this size or bigger after their operation. The bra that the team designed (the BHIS™ bra) has side support to reduce tension on the wound and adjustable fastenings to allow for fluid gain and different sized wound dressings. 
During a trial period at the Trust, the proportion of women suffering SSIs reduced significantly. 
The new bras are now being used at Royal Brompton and Harefield hospitals, and teams from other hospitals are interested in using them. Heather Lynch, who has used the BHIS bra, said: "It proved to be a great help upon my return home. It is both comfortable and supportive and alleviated any concern I had about my chest wound." 
In July 2017, the innovation won a National Patient Safety Award for the 'Best Product or Innovation for Patient Safety – Public Sector' and was praised by the judges for being "grounded in evidence". 
The BHIS bra is just one example of successful collaboration between infection control and surgical teams during 2016/17. They also jointly launched the Photo at Discharge scheme, to help with wound care and reduce surgical site infection for heart and other surgical patients. The idea is simple – at discharge, patients receive a pack containing a colour photograph of their surgical wound and advice on aftercare. This can be shared with carers or healthcare workers and helps ensure wounds are properly looked after on leaving hospital, by providing a reference point to check any changes in the appearance of the wound that may indicate infection. 
The project has proved highly effective, with reduced readmissions releasing up to 336 bed days per year. It has been widely featured in national journals and has won several high profile accolades including a National Patient Safety Award and a commendation at the RCNi awards. 
Experts appointed to high profile national and international roles
In the spirit of collaboration and sharing their specialist knowledge, many of our clinical experts hold positions within professional societies and on advisory panels, at home and abroad. Both heart divisions saw a number of new appointments to prestigious roles in 2016/17, including: 
Dr Susanna Price, consultant cardiologist and intensivist, became president-elect of the European Society of Cardiology's Acute Cardiovascular Care Association (ACCA). 
Dr Price said: "I am delighted and honoured to take up this new post and look forward to working with colleagues in Europe and beyond to improve the quality of care for patients with acute cardiovascular diseases." 
Dr Shelley Rahman Haley, consultant cardiologist and lead for echocardiography at Harefield Hospital, was elected to the British Cardiovascular Society's (BSC) clinical standards committee. The committee is responsible for standards of care in cardiovascular medicine across the UK. 
Dr Rahman Haley said: "My team at Harefield delivers an excellent service that is highly tailored to our patients' needs, and I'm looking forward to bringing my experience to my new role in the BCS." 
Professor Martin Cowie, consultant cardiologist, was appointed non-executive director on the board of the National Institute for Health and Care Excellence (NICE). Professor Cowie will lead on hospital medicine, guiding NICE in this key area of its work. 
He said: "I'm delighted to support NICE in improving outcomes for patients across the country. My experience working at the Trust will be invaluable and I look forward to sharing this with the board." 
Next: transplant patient comes face to face with his old heart >