As a foundation trust, we are governed by an elected council of governors and are independently regulated by NHS Improvement. We have around 11,000 members who we regularly consult with on Trust strategy and service planning.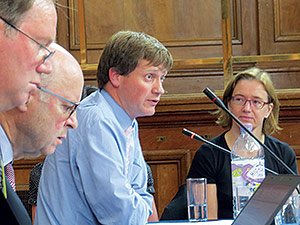 Royal Brompton & Harefield NHS Foundation Trust has been an independent legal entity with a unique governance structure since 1 June 2009. The powers of the Trust are set out in the National Health Service Act 2006, as amended by the Health and Social Care Act 2012. The Trust governance arrangements are enshrined in the Royal Brompton & Harefield NHS Foundation Trust Constitution and include the Trust membership, the council of governors and the board of directors.
The Trust board plays a key role in shaping the strategy, vision and purpose of the organisation. Board members are responsible for assuring that risks to the Trust and the public are managed and mitigated effectively. Led by an independent chair, and composed of a mixture of both executive and independent non-executive members, the board has a collective responsibility for the performance of the organisation. The council of governors, which comprises both elected and appointed parties, challenges the board and holds the non-executive directors to account for the board's performance. The elected parties are drawn from the membership and the appointed parties represent key stakeholders. Members are drawn from three constituencies: patient, public and staff. Independent regulation of the Trust is undertaken by NHS Improvement.
The council of governors appoints the external auditor. A sub-committee, the nominations and remuneration committee, considers the appointment of the chair and the other non-executive members of the Trust's board of directors.
Management of the foundation trust is delegated to the Trust's board of directors. There are three formal committees of the Trust board: the audit committee, the risk and safety committee, and the nominations and remuneration committee.
Quality Account 
The Trust is required by law to produce a Quality Account, which is an annual report to the public about the quality of services delivered. The Quality Account 2016/17 is available on the Trust's website at www.rbht.nhs.uk/qa and on the NHS Choices website.
Read the Trust's full annual report and accounts for 2016/17 and more about our policy and performance. 
Our Board
Executive directors – full year
Professor Robert J Bell  Chief executive 
Dr Richard Grocott-Mason Medical director/senior responsible officer    
Mr Robert Craig Chief operating officer
Mr Richard Paterson Associate chief executive – finance
Ms Joy Godden Director of nursing and clinical governance 
Mr Nicholas Hunt Director of service development 
Non-executive directors – part year
Baroness (Sally) Morgan of Huyton Chair
Non-executive directors 
Mr Neil Lerner Deputy chairman; and acting chairman 1st April 2016 – 31st December 2016 
Mrs Lesley-Anne Alexander CBE 
Professor Kim Fox
Ms Kate Owen
Dr Andrew Vallance-Owen MBE (senior independent director)
Mr Richard Jones 
Mr Philip Dodd
Our council of governors
Public governors – full year
Mr George Doughty North West London 
Mr Anthony Archer Bedfordshire and Hertfordshire 
Mr Robert Parker South of England 
Ms Jennifer Sano Rest of England and Wales
Patient and carer governors – full year
Mrs Chhaya Rajpal North West London
Mr Tim Mack North West London
Mrs Brenda Davies Bedfordshire and Hertfordshire
Mr Edward Waite South of England
Mr Stuart Baldock Elsewhere
Dr Ejikeme Uzoalor Elsewhere
Ms Caroline Karlsen Representing patients and carers
Patient and carer governors – part year
Mr Peter Kircher Bedfordshire and Hertfordshire
Staff governors – full year
Dr Charlie Butcher
Dr Claire Hogg 
Ms Anne McDermott
Mrs Elizabeth Henderson
Staff governors – part year
Dr Andrew Morley-Smith 
Dr Laura Price
Appointed governors – full year 
Mrs Victoria Borwick London Borough of Kensington and Chelsea  
Professor Mary Morrell Imperial College London
Appointed governors – part year 
Mr Ray Puddifoot London Borough of Hillingdon