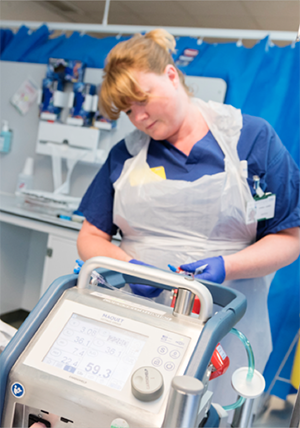 A redesign of the Trust's ECMO (extracorporeal membrane oxygenation) service has led to a 60 percent increase in referrals, offering highly specialised life support techniques to more patients than ever before. 
ECMO supports recovery after major life-saving surgery or life-threatening illness by oxygenating blood outside the body – effectively doing the work of a patient's lungs and enabling theirs to rest. 
In 2016/17 the Trust's ECMO service was redesigned and remains one of just five commissioned centres nationwide. The redesigned service has greater capacity, with 73 patients being brought to Royal Brompton's adult intensive care unit for treatment in the past year, up from 48 the previous year.
The redesign was led by Mr Richard Trimlett, consultant adult cardiac surgeon at Royal Brompton, and Dr Susanna Price, consultant cardiologist and intensivist, with support from Trust management, nursing staff, and perfusionists (specialists in heart/lung bypass machines and associated technology). Guy's and St Thomas' NHS Foundation Trust also supported the process, and colleagues there continue to work closely with the Trust's team as part of the wider national ECMO service. 
Mr Trimlett explained that the new ECMO service was deliberately designed to be collaborative and outward looking. He said: "Our ECMO team is massive and very inclusive. We have a huge number of people working with these patients, including surgeons, cardiologists and radiologists, and palliative care and respiratory experts.
"We seek everyone's opinions right from the start, so we have an inclusive approach that ultimately benefits the patient by bringing in a range of expertise."
ECMO patients are referred from clinicians in other hospitals. When consultants identify patients who need such specialist support, they contact the ECMO team directly. They then gain access to a unique online system – developed by Trust clinicians – that enables everyone involved in a patient's care to follow progress from referral right through to discharge. The system also allows multidisciplinary team discussions to happen across different hospital sites, and when patients have recovered enough to return to the referring hospital or go home, their discharge can be planned efficiently.
The new service is also designed to be built upon and expanded still further, with plans to provide more cardiac ECMO for patients suffering cardiogenic shock (a condition where the heart is suddenly unable to pump enough blood to meet the body's needs).
Mr Trimlett concludes that ECMO is the intensive care service of the future, and something the Trust will continue to develop and grow in the coming years: "This truly is where the future of the specialist cardiac hospital lies – in these high-end, highly specialised services, carried out at a very few centres, to the very highest standards. We have as much capacity to provide ECMO as the demand for it will dictate."
Next: Hospital to Home: developing new routes to patient care >