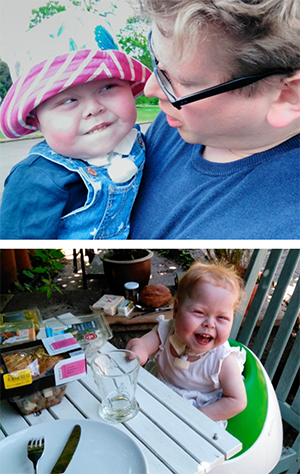 Consultant paediatric and congenital surgeon, Mr Olivier Ghez, was awarded a Children's Health Star award by ITV's Good Morning Britain. The condition means Lily's pulmonary valve, which allows blood to be carried from the heart to the lungs, is blocked, resulting in a low level of oxygen in the blood. 
The awards recognise those who have gone the extra mile to treat someone or save a life. Mr Ghez was nominated by four families for the life-saving surgery he carried out on their children, all of whom were born with congenital heart disease (CHD). 
Mr Ghez said: "I am so humbled – it is a great honour to receive such a testimony from the families of my patients. However it is our whole team at Royal Brompton which allows us to deliver the best possible specialist care for children with congenital heart disease."
Lydia Strachan and Crispian Wilson nominated Olivier for his work saving the life of their daughter Hester, who was diagnosed with a serious congenital condition called tricuspid atresia and coarctation of the aorta before birth. She was delivered at 34 weeks weighing just 2lb 8oz. During her 497 days in hospital, Hester underwent three major heart operations and numerous smaller procedures.
Lydia said: "Olivier performed multiple operations on Hester to repair her heart, which, because she was so fragile and tiny, were not straightforward procedures. 
"It was just before Hester's first birthday that he decided to perform complex open heart surgery when her heart was only about one and-a-half inches in size. It was extremely risky but we knew we couldn't wait any longer and this operation would give her a much better chance of survival."
The operation took 10 hours and was a complete success. Lydia said, "What really stands out is Olivier's level of commitment to the families. As parents, we literally put our child's life in his hands but there's nothing more reassuring than having someone like Olivier, who obviously has the technical skills but is also completely committed to caring for his patients."
Despite her difficult start to life, Hester's parents report that she now has good heart function – a result they hadn't dared to hope for during her multiple surgeries and struggles against infection.
Lydia said: "There was one night – the worst of my life – when we thought Hester was going to die… every parent I know whose child has a serious heart condition has had that moment. That she has the chance of a normal life, or as close as possible, is as hard to process as getting the news about Hester's condition. There are no words to describe what Royal Brompton, or the NHS, has done for us."
The couple praised the psychological support the Trust offers, and are still in contact with Claire Cooley, paediatric clinical psychologist, saying her help was crucial to settling down at home.
Hester's father, Crispian, added: "Going home is not the end, it's the beginning. The challenge is not the illness – we know about that – it is all the 'life admin' that goes around it. Hester is much more than just a medical case. She's a fully formed person with her own personality, who loves books, dinosaurs, orchestras, and all sorts of things."
Hester's parents formed a special bond with the team who cared for her during the 16 months she spent at Royal Brompton, and one year on from her discharge they returned to deliver a masterclass to nurses taking part in the Introduction to Congenital Heart Disease course at the National Heart and Lung Institute.
As well as providing a vital insight into the emotional impact CHD has on parents, they gave practical advice on how staff can support parents whose children are undergoing treatment for a heart condition.
Practice educator Kumi de Costa, who organised the session, said: "We really appreciate Lydia and Crispian giving their time to come back and give this presentation to our staff.
"Hester made a lot of friends during the time she spent with us – she's a happy and fearless little character and we were delighted to see her again.
Next: Pulmonary hypertension - a disease of heart and lung >