The communications team works with a mix of print, broadcast and online media to increase awareness of the Trust's work and achievements. Here is a selection of coverage for 2015/16.
The Trust is featured on a daily basis in newspaper, magazine and online articles, and across a range of broadcast and social media channels, reaching millions of people every year internationally.
April 2015
Harefield's history as a First World War hospital was celebrated by Australian news channel ABC to mark ANZAC Day. Mark Bowers, cardiology service manager, and Dr Mark Mason, interim divisional director of Harefield's heart division, described the care soldiers received and the cutting-edge treatments provided today. 
May 2015
The Mail on Sunday reported on revolutionary technology used at Harefield to keep lungs "breathing" outside the body before transplantation. The organ care system (OCS) supplies donor lungs with blood and inflates and deflates them with a ventilator. This increases the time they can be maintained outside the body, so donor lungs can therefore be transported from further away.  Mr André Simon, director of transplantation, said it could double the number of lung transplants carried out.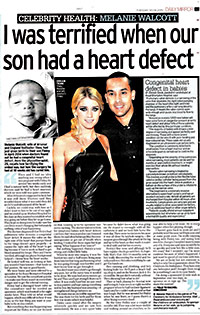 June 2015 
Melanie Walcott, wife of footballer Theo Walcott, was interviewed by the Daily Mirror about her baby's treatment at Royal Brompton after he was diagnosed with a narrowed heart valve at birth. Dr Zdenek Slavik, consultant paediatric cardiologist, described the procedure, which uses a balloon to widen the valve. 
The Daily Mail reported on a clinical trial at Royal Brompton that involved placing bronchoscopic valves in the lungs of patients with emphysema. Dr Pallav Shah, consultant respiratory physician, explained that the valves block off damaged areas of the lung, helping the healthier parts to function better. A patient said his breathing improved within a few days of the procedure. 
July 2015
Sky News reported on the UK's first CardioMEMS implant, which took place at Royal Brompton. The device monitors heart function and alerts doctors remotely to changes in a patient's condition, before symptoms occur. Professor Martin Cowie, consultant cardiologist, described how it could prevent emergency hospital admissions. The story later featured in the Mail on Sunday, Sunday Telegraph and on ITV's This Morning, with Dr Mark Mason discussing the device.
A multi-centre trial led by Professor Eric Alton, consultant respiratory physician, attracted attention from the Daily Mail, Financial Times, the Guardian, the Independent and BBC Radio 4's Today programme. It showed that gene therapy can improve lung function in cystic fibrosis patients. Al Jazeera's The Cure later interviewed Professor Jane Davies, consultant in paediatric respiratory medicine, about the trial. 
ITV's Good Morning Britain included live broadcasts from Harefield during an episode about organ donation. Harefield was introduced as a "world famous" hospital where "wonderful technology and brilliant doctors revolutionise the lives of transplant patients". Mr André Simon, director of transplantation, and Dr Martin Carby, consultant respiratory physician, explained the processes involved with transplantation. 
BBC Online, the Daily Mirror, the i newspaper, BBC Radio 2 and BBC Radio London reported on Harefield patient Andrew Whitby being named the longest surviving heart-lung transplant recipient by Guinness World Records, 30 years after his operation.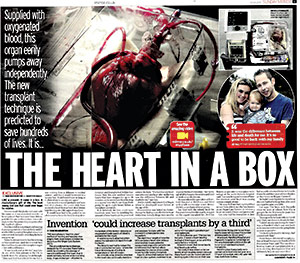 August 2015 
A feature in the Guardian's Weekend magazine described the "amazing job" done by Royal Brompton's catering and nutritional teams after the newspaper's restaurant critic sampled patient meals. Paul Hammond, catering manager, and Ione Ashurst, nutritional lead, explained the complexities and challenges around providing high-quality food that is beneficial to patients and within budget.  
September 2015
The Daily Telegraph, Daily Mail, i newspaper and BBC London television news reported on a groundbreaking blood test developed at Royal Brompton, which could potentially be offered by GPs to provide a rapid diagnosis of cancer and lead to earlier treatment. The study, led by Mr Eric Lim, consultant thoracic surgeon, showed the blood test could save some patients from having an invasive, more expensive, biopsy. 
November 2015
Professor Andrew Bush, consultant paediatric chest physician at Royal Brompton, was interviewed by BBC1'sPanorama during an episode about Volkswagen's emissions testing. He described the impact of environmental pollution on children's respiratory health. Royal Brompton was introduced as "the country's leading lung hospital". 
A feature in the Daily Mail described a novel ablation treatment being trialled by Dr Sabine Ernst, consultant cardiologist, for atrial fibrillation. It involves ablating the endings of nerves outside the heart, in addition to heart tissue targeted in a conventional ablation. One patient commented that his heart has remained in normal rhythm since the procedure.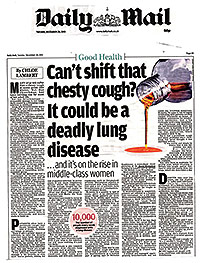 December 2015 
BBC Radio 4's Today programme interviewed Dr Alex Lyon, consultant cardiologist, about Royal Brompton's cardio-oncology service, and new Trust research which suggested a link between cancer and reduced heart function. The research was reported in the Daily Telegraph, Daily Mirror, The Sun and the Mail Online, quoting Dr Raj Khattar, consultant cardiologist and one of the study's leaders. 
Coverage of Public Health England's Smokefree campaign focussing on COPD appeared on BBC Breakfast television, BBC Radio 5 Live, LBC Radio and Sky News and in the Daily Express, Daily Mirror, The Independent and Mail Online. Chief medical officer, Dame Sally Davies, visited Royal Brompton's Victoria Ward and was interviewed there alongside Dr Nicholas Hopkinson, COPD clinical lead.
February 2016
A comprehensive genetic test to diagnose inherited cardiac conditions (ICCs), developed through international work led by Royal Brompton and Imperial College London experts, attracted attention from the Daily Mail, the Guardian, The Sun, Daily Mirror, ITV News, Channel 5 News and BBC Online. The test is quicker and more reliable than previous genetic tests. Dr James Ware and Dr Jan Till, consultant cardiologists, were interviewed.
BBC Radio London reported that Lord Carter's review of efficiency in hospitals singled out Royal Brompton for the quality of food provided to patients. Catering manager Paul Hammond described how the Trust provides high-quality, nutritious food that provides value for money.
---