The Trust puts a high priority on providing comprehensive career development progammes for staff and sharing our expertise.
We are committed to investing in the next generation of cardiovascular and respiratory clinicians, and the Trust continues to enjoy an excellent reputation for its postgraduate programmes. 
Our clinical teams share their knowledge at conferences and training events around the world, and clinicians wishing to specialise in heart or lung conditions are invited to take up fellowships to work alongside established experts at the Trust. 
As a specialist trust, our experts also have an important role to play in helping to establish complex procedures within mainstream clinical practice. 
SPRinT programme
The award winning Simulated interPRofessional Team Training (SPRinT) programme is based at Royal Brompton. SPRinT uses baby and child mannequins to recreate life-threatening events to improve performance. The team is actively involved in educational committees of the Royal College of Paediatrics and Child Health, the Paediatric Intensive Care Society, and the International Pediatric Simulation Society.
In March 2016, the SPRinT team welcomed visitors from Singapore, who had travelled to London as part of a world tour to learn about simulation-based education for undergraduate and postgraduate healthcare students.
The delegates, who included the senior associate dean of medical education and the director of education from Singapore Health Services, have recently formed their own simulation education programme. During the visit, the SPRinT team gave presentations on building and sustaining a pool of simulation experts and measuring the effectiveness of the programme in relation to patient safety. The visitors were also shown TOM – a teenage open-chest model used for in-situ simulation.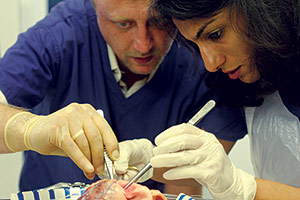 STaR Centre 
The STaR (simulation, training and resource) Centre at Harefield provides a training environment capable of replicating acute medical, anaesthetic, cardiac and thoracic surgery situations. On-site postgraduate medical training is delivered to students from around the globe to the standards set by the General Medical Council and the Royal College of Physicians board. This training reflects Harefield's national and international reputation as a centre of excellence. 
The centre is equipped with high-tech equipment such as the SimMan 3G, a highly sophisticated dummy patient enabling clinical staff to replicate acute medical, anaesthetic, cardiac and thoracic surgery scenarios. The STaR Centre also contains a fully equipped skills teaching laboratory for invasive procedures, a state-of-the-art transoesophageal echo simulator, a bronchoscopy simulator, a lecture theatre and video-conferencing suites. 
Clinical Skills and Simulation Centre
Since opening in 2011, this specialist medical education and training centre has provided a variety of clinical training courses for staff and visiting healthcare professionals. 
The Clinical Skills and Simulation Centre (CSSC) is a collaboration between Royal Brompton and The Royal Marsden hospitals. Facilities include a "wet laboratory" where clinicians can practice surgical skills, from simply closing a wound, to complex procedures such as replacing a heart valve. 
There is also a highly realistic ward area enabling healthcare teams to replicate evolving clinical situations. 
Last year, the CSSC hosted a wide range of activities, including resuscitation training courses delivered jointly to staff from both hospitals.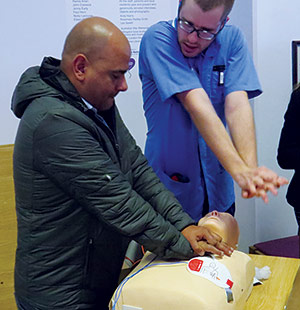 Primary Angioplasty Live 
The Trust's annual three-day conference, held in the Concert Hall at Harefield in October 2015, was attended by more than 300 people, including medical staff, ambulance teams and local school children. 
Dr Rob Smith, consultant cardiologist and course co-director, carried out a primary angioplasty (in which the arteries are unblocked using a catheter, small balloon and stent) via a live link from one of the cath labs. An audio feed allowed Dr Smith and Dr Miles Dalby, clinical lead and course director, to talk about the patient's history and explain the details of the procedure as it was being carried out. 
A number of speakers discussed topics such as what a heart attack is and why it occurs, lessons learned from resuscitation over the last century, and the importance of 'door to balloon' time for certain patients.
Members of the public and patients took part in resuscitation demonstrations on dummy patients, learning how to perform CPR. Patients who had had angioplasties in the past talked about their experiences in an interactive discussion, and many of the pupils joined in.
Dr Dalby says: "The conference offers medical staff an insight into the logistical and clinical issues surrounding primary angioplasty, as well as a chance to truly understand the patient experience. For the first time this year we invited school children with an interest in medicine, which was a great success. Many of them found it so interesting that they are now in the process of arranging to do work experience at Harefield."  
Entrepreneur programme
The Trust is a member of Imperial College Health Partners (ICHP), a partnership of 20 organisations across north west London including NHS providers, clinical commissioning groups and universities. Last year, ICHP set up the intrapreneur programme, which supports staff to be innovative in their everyday roles to improve patient care. 
A team from Royal Brompton and Harefield took part in the programme, working on improving the lung transplant assessment process for patients with cystic fibrosis. The aim was to reduce waiting times and make the process easier and quicker to navigate. Working with patients and other staff, and supported by the methodology learned on the intrapreneur programme, the team has already introduced some changes, such as setting up monthly Skype meetings between the transplant and CF teams, and is exploring carrying out clinical tests locally to speed up the assessment process. 
They are also looking at introducing a web-based system to improve communication between the referrer and transplant centre. This is an ongoing project and the team will continue working on it over the coming year.  A second group is due to start the same programme in the autumn, examining the role of telemedicine in outpatient care.
---